Somi Das
| Updated on: 29 June 2016, 21:26 IST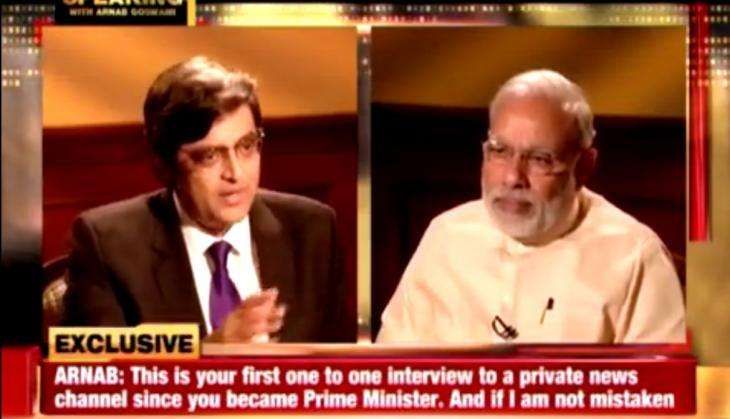 Ever since Times Now editor-in-chief Arnab Goswami bagged the coveted interview with Narendra Modi, the internet exploded with memes and jokes about him going soft on the Indian prime minister. Some called him "chamcha" of the BJP while others called the interview "a date".
Incidentally, Goswami is the only Indian journalist to have managed to interview Modi just before he became the Prime Minister and then two years into his term.
The purpose of any journalistic interview is to ask uncomfortable questions, to lay bare the hypocrisies of the ruling power and when it is an individual like the Prime Minister -- the interview should be able to highlight his personal traits.
However, none of these would need one to be adversarial-- a way of journalism that Goswami has mastered and propagated. So naturally, when the decibels went down and the questions were sugar coated with too many niceties and thank yous, people were disappointed. But one must understand that you do not interact with the prime minister the way you talk to a party spokesperson.
So, the expectations on any journalist interviewing the Prime Minister is not only improbable but highly unfair. I can't imagine any journalist in the current scenario managing to take on the Prime Minister on important issues.
Allegations that the interview might be entirely scripted are grave but nothing unheard of. In fact, very rarely do people in power agree to do a free-wheeling chat. There are leaders who insist that the questions be emailed to them beforehand.
Similar allegations were made about his earlier "soft interview" with Rahul Gandhi, where the Congress vice president made a joke of himself despite Goswami's kid glove treatment. Even the earlier Narendra Modi interview was anything but quintessential Goswami.
That Arnab Goswami managed to interview Modi twice in a span of two years is in itself an achievement. True, he had almost gave up on cross-questioning during the latest episode of 'Frankly Speaking'. Yes, he was complimenting Modi way too many times.
But that again is a technique to handle a difficult interviewee who has had an uncomfortable relationship with journalists and on occasions even walked out of interviews.
To take into confidence someone who doesn't believe in engaging with the media but merely leveraging it for information dissemination on government policies does make a journalist very conscious about the words he chooses to use.
That explains Goswami avoiding any references to saffronisation of educational institutions, the FTII, and the NIFT fiascos, questions on the ideological war, questions about Amit Shah mentioning unsubstantiated claims of Kairana exodus right in front of him in Uttar Pradesh.
But despite this, sandwiched between all the praises he heaped on Modi and the questions he chose not to ask, there were important questions. Here are some excerpts:
1. On the issue of the NSG, you staked a lot of personal interest, personal push, you lobbied actively. How close are we to getting the NSG seat?... Were you disappointed that we did not make it at the very end because of China's opposition?
2. You spent some time with the Chinese President Xi Jinping. Yet it was seen that in the case of Masood Azhar, China blocked India's UN bid to ban him. Now they have stalled India's NSG bid. Why is China repeatedly blocking us Mr Prime Minister despite your personal proactive measures and your government's outreach?
3. My question to you is Mr Prime Minister, how close can we get to America because many Indians believe that America is still supporting Pakistan, giving them military assistance. How close can we get? At what point do we stop before we are seen like an American ally? What is your own world view on that?
4. . On the one hand is the people's expectations and on the other is your vision...You have spoken about infrastructure but the current rate of unemployment. Mr Prime Minister, the latest Labour Bureau figures, is it a source of concern for you as the Prime Minister?
5. Mr Prime Minister, questions are also being raised on food inflation which has still not decreased. The expectation was that the food inflation would decline. Global oil prices have fallen. Do you think this creates perception issues for your government?
All these questions in isolation make perfect sense.
But how did Modi answer these questions? This has to be analysed. It will reveal a lot about how he looks at governance and politics.
1. Blame the state governments when posed with difficult questions: One of the key issues that have resulted in constant criticism of the government is food inflation particularly due to rising prices of pulses and vegetables. For this the Prime Minister blamed droughts. And also, the states. "It is not exclusively the Centre's responsibility. It is the joint responsibility of both the state and Central governments. This should not be an issue of blame game that the state government did not do certain things and that the Centre did not do certain things. But it will have to be agreed that it is the joint responsibility of both. That is why the Centre has given rights to the states to make stringent laws. How much stocks to keep or not to keep are decisions which the states can take. All these rights have been given to the states." (Source: The Indian Express)
2. Call yourself "apolitical" and avoid taking responsibility for any irresponsible statement made by your party members. "Apart from elections, I don't get involved into politics ever," he says.
3. Instead blame the media for the actions of your own party men. "I would like to tell the media not to make heroes out of those people who make such comments," he said. However, he doesn't explain if the media should also ignore if his own party chief Amit Shah raising unsubstantiated claims about exodus in Kairana, UP, at a political gathering.
4. Advertise government policies in a loop: To Arnab Goswami's question on government's failure to generate employment for the youth, Modi just spelt out the oft-repeated government policies: Jan Dhan Yojana and Mudra Yojana. To problems of farm crisis, his answer is the Pradhan Mantri Krishi Sichai Yojana.
Except for a mild and indirect criticism of the maverick Subramanian Swamy, who has crossed all limits of decency after warning of a "bloodbath in finance ministry", there was little news value to the interview. There was nothing new the PM told us. It seemed as though he was reading out from his election campaign script turning the 85-minute interview into a reminder of all the government policies.
But Goswami alone can't be blamed for wasting 85 minutes of our time. The sobering of Goswami is symptomatic of the way any dispensation treats the media.
That a journalist must wash himself down and put his reputation at stake for an interview with the prime minister is a sorry reminder of the reluctance our leaders have in exposing themselves to unfettered scrutiny. For those in power have the option of not talking at all.