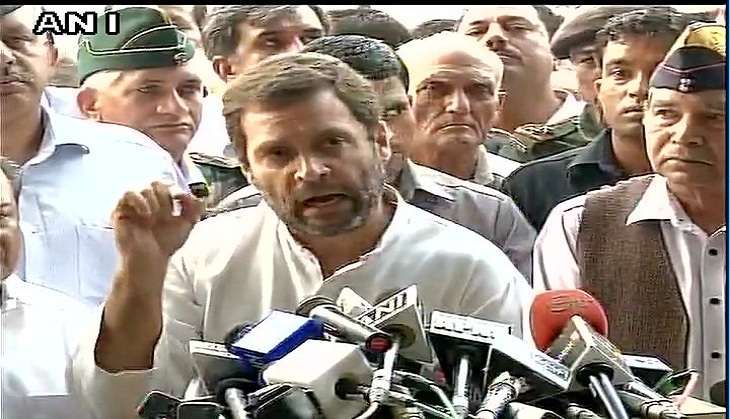 On 4 November, Congress Vice President Rahul Gandhi addressed the media after meeting with ex-servicemen at the AICC office in Delhi, lashing out at Prime Minister Narendra Modi for non-implementation of the One Rank One Pension (OROP) scheme, that allegedly prompted the suicide of Ram Kishan Grewal.
"This government made false promises and cheated the veterans in the name of OROP," Gandhi alleged.
"I met veterans from all across the country. They said it is not about the money but about our prestige," he added.
Also read - OROP suicide row: Rahul Gandhi meets Ram Kishan Grewal's family in Bhiwani
Rahul Gandhi was accompanied by A K Antony while addressing the media.
"There is no respect for farmers and none for ex-servicemen. Indian PM said OROP has been implemented. If it has been implemented, then why are ex-servicemen still protesting? They have not implemented OROP", he said.
"I was detained yesterday and the day before. But it does not matter to me," Rahul Gandhi said, referring to his detention on 3 November at the Feroz Shah Police Station.
"However, the way the family of the former soldier who committed suicide over the OROP issue was treated, is wrong. The government must apologise and implement OROP", he added.
Also read - OROP: Rahul Gandhi detained for the third time at Feroz Shah police station
"60-80 experienced people (ex-servicemen) were there; they said that what Modiji is calling #OROP is only pension enhancement," Rahul Gandhi said.
He launched a scathing attack on the Centre, and said that PM Modi should stop lying and work towards actually implementing the scheme as was promised to the veterans.