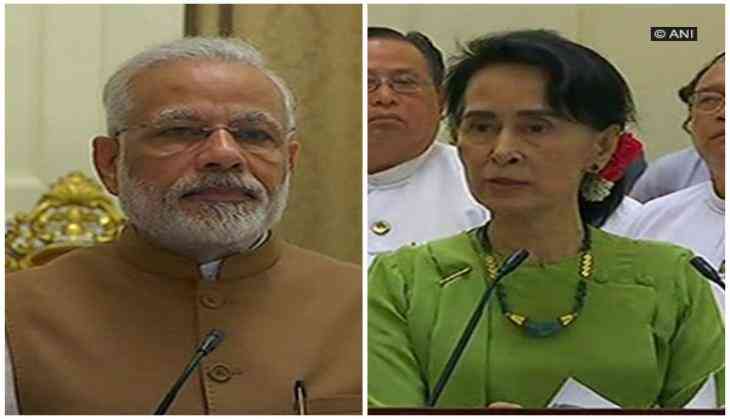 Aung San Suu ,Prime Minister Narendra Modi (ANI)
Prime Minister Narendra Modi on 6 September said that India shares Myanmar's concern on extremist violence in the Rakhine state and that he hopes that all stakeholders can find a solution, in which the unity and the territorial integrity of the country is maintained, together.
In a joint statement following the signing of agreements and Memoranda of Understanding (MoUs) between India and Myanmar, Prime Minister Modi said, "We share your concerns on extremist violence in the Rakhine state and violence against the security forces and how innocent lives have been affected."
''Whether it is a peace process or any other special issue, we hope that all stakeholders together can find a way out in which the unity and the territorial integrity of Myanmar is respected. At the same time, we can have peace, justice, dignity and democratic values for all," he added.
The Prime Minister further said, "Your courageous efforts towards the Myanmar peace process are worthy of praise. We understand and stand by Myanmar in these challenging times."
"India and Myanmar are neighbours and hence, in the areas of security, our interests are the same and it is necessary that we work together to safeguard our long land border and maritime boundary for the security and the stability of the region."
"We would like to contribute to Myanmar's development efforts as part of our 'Sabka Saath Sabka Vikas' initiative."
"India's democratic experience is relevant to Myanmar and therefore, the Election Commission of India and the Myanmar Press Council are the institutions which we have agreed upon for comprehensive cooperation programmes in capacity building."
Also, in a bid to strengthen bilateral relations with the neighbour, the Prime Minisrer announced gratis visas for the Myanmar citizens.
"The citizens of Myanmar, who wish to visit India will be given gratis visas, and 40 Myanmarese citizens in the Indian jails will be released," PM Modi announced.
Earlier, Prime Minister Modi and State Counsellor of Myanmar Aung San Suu Kyi witnessed signed agreements.
State Counsellor Aung San Suu Kyi thanked India for taking a strong stand on the terror threat that Myanmar recently faced.
"Together, we will ensure that terror is not allowed to take roots in our country, on our soil or in our neighbouring countries," she said.
Meanwhile, Prime Minister Modi appreciated Suu Kyi's leadership during the Myanmar peace process.
"Your courageous leadership to the Myanmar peace process needs to be lauded," he said.
Suu Kyi, on her part, said, "There are many areas in which we can cooperate. I would like to talk about the role India has played in capacity building because that is what our country is more in need of - to build up the capacity of our people that we may be able to construct truly safe and lasting federal democratic unions."
"India has always been eager to join us in our efforts, to strengthen our democratic institutions of our country and for this also, we appreciate the relationship between our two countries. The friendship between our two countries has always been good. We need to further strengthen what we already have, what we built up at the time of our Independence 70 years ago," Kyi added.
The Myanmar leader added, "The respective fathers of our Independence movement were close to each other and I think this closeness has been maintained throughout the seven decades and we truly believe that this will continue to be maintained in the years to come."
This is Prime Minister Modi's first bilateral visit to Myanmar. He had last visited the country in 2014 to attend the ASEAN-India Summit.
Suu Kyi and the Myanmarese president had visited India last year.
-ANI