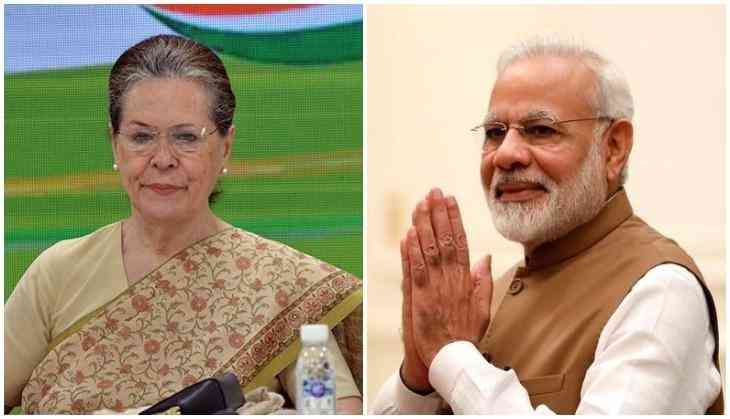 Prime Minister Narendra Modi and top Congress leaders extended birthday wishes to Congress party interim president Sonia Gandhi, who turned 73 on Monday.
Taking to Twitter, Modi said, "Birthday wishes to Mrs. Sonia Gandhi Ji. Praying for her long life and good health."
Birthday wishes to Mrs. Sonia Gandhi Ji. Praying for her long life and good health.

— Narendra Modi (@narendramodi) December 9, 2019
"The longest-serving Congress President, Sonia Gandhi's exemplary strength of character has inspired generations of Congress leaders. Her strength, dignity, compassion and grace has united us and made us strong. We wish her a very happy birthday," a tweet from the party's official Twitter handle said.
Congress President Smt. Sonia Gandhi has always propagated unity of our people. Her belief & philosophy has remained the same: We are stronger together. #HappyBirthdaySoniaGandhi pic.twitter.com/pK8HbB6ZXj

— Congress (@INCIndia) December 9, 2019
Among others, Senior Congress leaders Kumari Selja, Manish Tewari, Rajasthan Deputy Chief Minister Sachin Pilot, Milind Deora, Mahila Congress chief Sushmita Dev and Youth Congress chief Srinivas B wished the party chief early in the morning.
अखिल भारतीय कांग्रेस कमेटी अध्यक्ष माननीया श्रीमती सोनिया गांधी जी को जन्मदिवस की हार्दिक बधाई एवं शुभकामनाएं।
आपके नेतृत्व में देश एवं पार्टी को जो मार्गदर्शन मिला उससे हमें सदैव प्रेरणा मिलती रहेगी। मैं ईश्वर से आपके उत्तम स्वास्थ्य एवं दीर्घायु जीवन की कामना करता हूँ।

— Sachin Pilot (@SachinPilot) December 9, 2019
Sonia Gandhi is not celebrating her birthday in the wake of rape incidents in various parts of the country and concerns over women's security, sources said. Sonia Gandhi has decided not to celebrate her birthday as she is saddened by rape incidents.

Sonia Gandhi is an Italian-born Indian politician, who has served as President of the Indian National Congress party since 1998. She is the widow of former Prime Minister of India, Rajiv Gandhi who belonged to the Nehru-Gandhi family. After her husband's assassination in 1991, she was invited by Congress leaders to take over the government but she refused and publicly stayed away from politics amidst constant prodding from the party.
(With Agency Inputs)
Also Read: Sonia Gandhi's Birthday: Rajiv Gandhi-Sonia, love tale with a poignant end