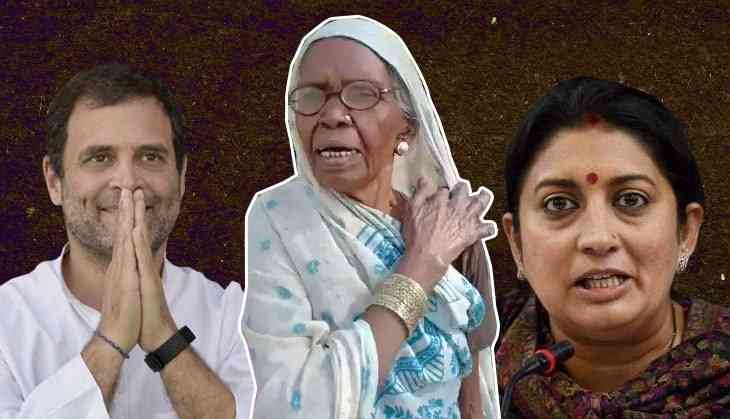 Union Minister and BJP candidate from Amethi, Smriti Irani on Monday accused Congress president Rahul Gandhi of booth capturing in his family constituency of Amethi during the polling for the fifth phase of the Lok Sabha elections. Irani shared a video of an old lady, tagging Election Commission of India, showing a voter being allegedly forced to 'vote for Congress' by the officer in charge at the booth.
According to Smriti Irani's tweet, an old woman admitted that she was forced to cast her vote for Congress. The incident took place in Gauriganj in Uttar Pradesh, an area that is part of Amethi constituency.
Alert @ECISVEEP Congress President @RahulGandhi ensuring booth capturing. https://t.co/KbAgGOrRhI

— Chowkidar Smriti Z Irani (@smritiirani) May 6, 2019
The video was allegedly recorded at the polling booth 316 in Gauriganj's Gujar Tola village in Amethi constituency. In the video, the woman claimed that the presiding poll officer of the booth forcibly grabbed her hand and put in on the Congress's Hand symbol. The old lady adds that she wanted to vote for the BJP.
"I was going to vote for Lotus, but my hand was held and made to forcefully vote for Congress," the woman is seen saying in the video. "Congress President Rahul Gandhi ensuring booth capturing," Irani said in her tweet.
Smriti Irani after sharing tweet said, "I tweeted an alert to administration and EC (alleging booth capturing in Amethi), hope they take action. People of the country have to decide whether this kind of politics of Rahul Gandhi should be punished or not."
Smriti Irani and Rahul Gandhi's fight from Amethi is one of the most closely watched for fights in the country in the ongoing Lok Sabha elections 2019.
Also read: On election day, Smriti Irani asks why Rahul Gandhi is not in Amethi?