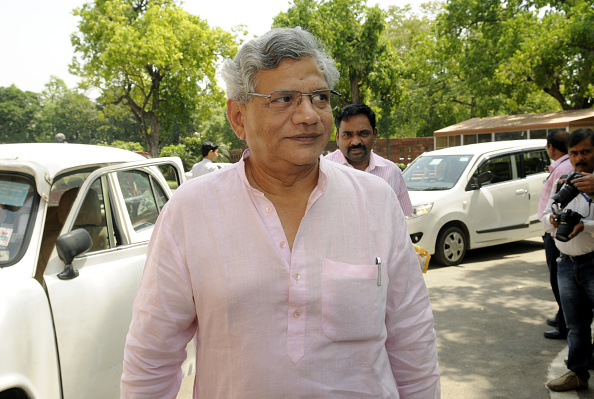 CPI(M) General Secretary Sitaram Yechury on Saturday blamed BJP of disrupting Parliamentary proceedings, accusing the party of trying to escape accountability behind the veil of conducting a 'debate for debate's sake'. Yechury's comments come two days before an all-party meet scheduled for Monday by the government in an attempt to break the Parliament logjam.
The CPI(M) stuck to its demand for the resignation of Union Minister Sushma Swaraj and Rajasthan and Madhya Pradesh Chief Ministers, saying this was necessary for an impartial investigation into the charges against them.
'Opposition correct to demand investigation'
"The opposition correctly maintains that a parliamentary discussion cannot be a substitute for an investigation. These are serious charges that need to be investigated at the highest level.
"Till such an investigation continues, as is the norm for any government servant, the accused demits office in order to ensure strict impartiality. It is precisely this that is being asked of this BJP government," said Sitaram Yechury.
In an article in the forthcoming issue of party organ 'People's Democracy', he said, "This BJP government is escaping being accountable behind the veil of conducting a 'debate for debate's sake'. It is this BJP government that is today, thus, causing parliamentary disruptions."
On the BJP's charge that the opposition was avoiding debate in Parliament, Yechury said, "Parliament can only ensure executive accountability through effective legislative scrutiny, not through a debate but by pressurising the executive to order an investigation into the allegations."
The government, which has been insisting that no one would quit office, will convene an all-party meeting on Monday to break the deadlock while accusing the opposition of blocking the passage of key legislations.
BJP's position 'duplicitous'
Accusing the BJP of "duplicity", Yechury gave several instances of the party, when in opposition, disrupting Parliament seeking resignations of several UPA Ministers like A Raja, Dayanidhi Maran, Shashi Tharoor, P K Bansal, Ashwini Kumar and K Natwar Singh, all of whom had to quit office.
"We can go back even earlier to expose the BJP's current duplicity. Atal Bihari Vajpayee in December 1995 said, 'We don't want a debate for debate's sake' demanding the resignation of then communication minister Sukh Ram."
He said the recent revelations in the Lalit Modi scam, the Vyapam scam in Madhya Pradesh, the involvement of two BJP ministers in scams in Maharashtra and the public distribution system connected scams in BJP-ruled Chhattisgarh have "busted the myth" of Narendra Modi's 'corruption-free government'.
"All that the opposition is now asking this Modi government is that it applies the same yardstick that they were asking for earlier. Consider the utterly duplicitous positions now being taken by the BJP compared to their own utterances in the past," the CPI(M) leader said.
'BJP protecting persons committing grave offences'
In this context, he referred to the resignation of Peter Mandelson from the Tony Blair government in the UK in early 2001, after British media reported that Mandelson had raised money for the 'Millennium Dome' from the Hinduja brothers, in return for a 'favour' of securing a passport for one of them, Srichand.
"There was a hue and cry in the British Parliament. Mandelson had to resign though Srichand Hinduja was not accused of wrongdoings and was not a fugitive from justice. Also the 'Millennium Dome' was a national edifice not involving any personal pecuniary gain.
"Further, there was no suggestion of any 'cosy relationship' between Mandelson and Srichand Hinduja unlike in the present instance (both external affairs minister and Rajasthan chief minister have publicly stated their closeness to Lalit Modi). It was the sheer impropriety in the act, recommendation for which Mandelson had to resign," he said.
"Here in India, persons committing graver offences are being protected by this BJP government! Such is the 'good governance' that PM Modi promised to deliver in 2014," Yechury said.
-PTI