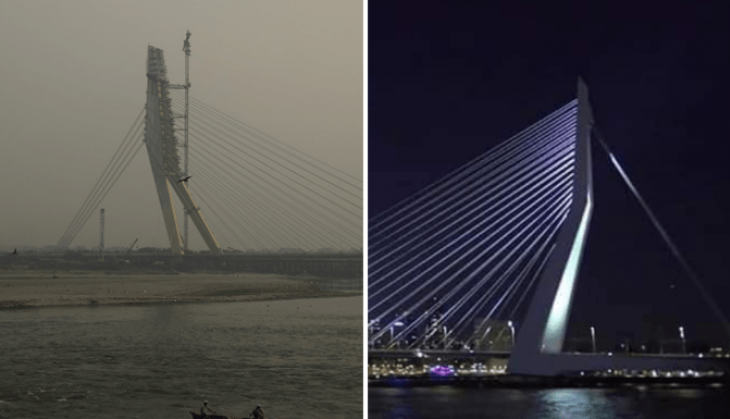 Signature Bridge (left) and Erasmus Bridge (right) (OpIndia)
The Aam Aadmi Party is all set to inaugurate the new Signature Bridge today in Delhi but the picture shared by the AAP's official Twitter account is of the illuminated Erasmus bridge in Rotterdam.
AAP on Saturday tweeted the images of a bridge which was illuminated by lightings and said that these are the pictures of the Signature bridge, going to be inaugurated today by the Delhi Chief Minister Arvind Kejriwal and deputy CM Manish Sisodia.
The AAP's official Twitter account tweeted, "Delhi ! Here is your pride ..The Signature Bridge . Ready to welcome you tomorrow for Inauguration Ceremony.. 4PM onwards.. Sunday, 4th Nov."- @msisodia"
After this post, it was pointed out by the Twitter users that these pictures doesn't belong to the upcoming Signature Tower Bridge but of Erasmus Bridge, Rottedam. And it became a point of discussion for many in the political battlefield, wherein at the inauguration, any BJP leader is not invited.
BJP spokesperson Tajinder Pal Singh Bagga tweeted "@ArvindKejriwal साहब विकास कर लिया होता तो नीदरलैंड के इरास्मस ब्रिज की फोटो चुराने की जरूरत नही पड़ती । ये रहा उसका लिंक जहाँ से आपने तस्वीर चुराई खैर चोरी/घोटाला तो आपकी फितरत में है"
Bagga also added that the full-page ad published in most of the newspapers today are also different from the real Signature Bridge.
Ousted Aam Aadmi Party leader and former minister Kapil Mishra claimed that the 98% work of the bridge got completed during his tenure and deputy CM Manish Sisodia managed to carry out only 2% work.
Also read: Signature bridge inauguration: Interesting facts of iconic Signature Bridge which Delhi CM Arvind
"Delhi !
Here is your pride ..The Signature Bridge . Ready to welcome you tomorrow for Inauguration Ceremony.. 4PM onwards.. Sunday, 4th Nov."- @msisodia pic.twitter.com/agEuZhrjib

— AAP (@AamAadmiParty) November 3, 2018
. @ArvindKejriwal साहब विकास कर लिया होता तो नीदरलैंड के इरास्मस ब्रिज की फोटो चुराने की जरूरत नही पड़ती । ये रहा उसका लिंक जहाँ से आपने तस्वीर चुराई खैर चोरी/घोटाला तो आपकी फितरत में हैhttps://t.co/edwphH9ubn pic.twitter.com/w9Z8xHSkWc

— Tajinder Pal Singh Bagga (@TajinderBagga) November 4, 2018