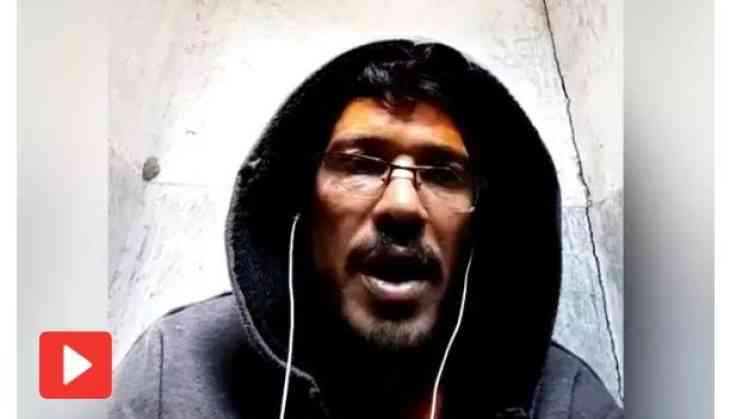 In a major security breach in Rajasthan, a criminal convicted and jailed since December last year for hacking a daily wager to death on camera has recorded another video but this time it is from the prison cell of the Jodhpur Central Jail.
The 36-year-old Shambhulal Regar was convicted last year when a video of hate crime went viral. In the video which was shot in Rajsamand, 67 Km north of Udaipur, Regar hacked a 45-year-old daily wager from West Bengal, Mohammad Afrazul to death on camera and burned his body. That disturbing video was filmed by his 15-year-old nephew.
After the video went viral he was garbed by the police and imprisoned in the Jodhpur central jail but, yesterday, after two months of his conviction he has posted two videos. In the videos, he has ranted against "jihadis" and the background of the video seems to be a jail cell.
In the latest videos which were shot by a cellphone, he is seen wearing a black hoodie and equipped with earphones, Regar appears to be reading from a pre-written script of the hate-filled statement.
In his hate rant, he asked all the Hindus to unite and fight against the Jihadis. He even alleges that there is a threat to his life.
According to the chargesheet that was filed this January, it was concluded that Regar had an illegitimate relationship with the woman whom he has referred to as his 'Hindu sister' in the brutal murder video.
The recent videos, he looks expressionless and lacks any regret for the heinous crime he committed, he said, "I have ruined my life and I do not regret it. But, I am sad about the fact that the judiciary and press showed that I had an illicit relationship with a woman for which I committed the crime."
He even mentioned that despite the fact that he is living under high security, there is a convict who plans to kill him. Upon the video going viral and people questioning the security, State Home Minister Gulab Chand Kataria has already ordered an investigation into the whole matter.
Ironically an FIR Report has been filled and jail officials are searching the barracks to track down the mobile phone.
According to a police official in Jodhpur central jail, "Regar has told us that it wasn't his phone neither has he disclosed whose was it either. As per the sources, only 2G jammers work at the jail complex that also houses rape-accused spiritual leader, Asaram Babu.