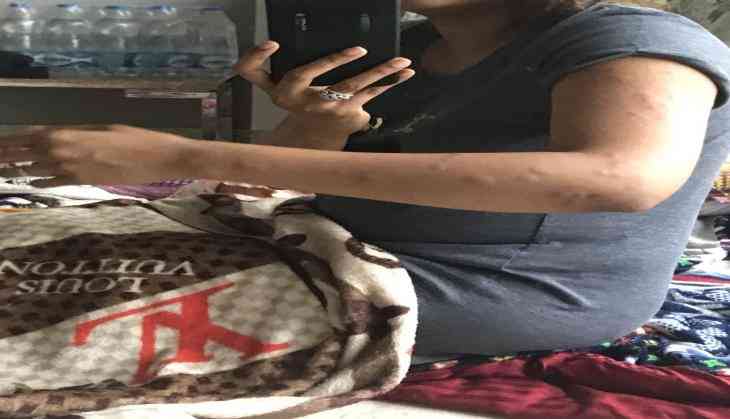 For a comfortable journey, people travel on flights and even choose business class flight for it. So does, a passenger who travelled with her three kids did, but it ended up as the worst ride for her. A female passenger who travelled to US- Mumbai Air India flight last week has ended up bitten by bedbugs on her arms and all over the body. The passenger named Saumya Shetty tweeted a pic of her hand bitten by bugs. She is the second passenger in a week to complain about bedbugs on the same flight.
Saumya, travelled with her three children, including a baby and landed Mumbai last Wednesday, says she developed rashes all over her body. She alleges that despite her complaint to the flight attendant, she was forced to sleep in the same seat and got a seat change only a short while before landing in Mumbai.
"Covered in painful bedbug bites all over my body thanks to the business class of #AirIndia is this what you charge for? I only got moved to another seat in the morning when we were landing, it was disgusting! Mind you I was travelling with 3 kids," Ms Shetty said in a series of tweets tagging the media.
What an #airindia #businessclass would do to you? AI still has to get in touch with me inspite if my repeated attempts to get in touch with them. @airindiain @NewYorkTimes11 @cnni pic.twitter.com/tDHfmhX0Vx

— Saumya Shetty (@saumshetty) July 20, 2018
"Traveled business class thinking it would help with three kids. I'm covered with bed bugs bites and it's been a painful day so far," she posted.
On Friday, the Press Trust of India quoted sources to say that a baby was bitten by the bedbugs on the same flight, which left passengers agitated. Another passenger, Pravin Tonsekar, tweeted that his seat, also in the business class, was infested with bedbugs.
"...just arrived from New York on Air India 144 business class with family. All our seats infested with bed bugs. Sir, have heard of bed bugs on trains but shocked to experience on our maharaja and that too business," Pravin Tonsekar tweeted and tagged the airline and the Civil Aviation Minister Suresh Prabhu.
He said his "wife and daughters had to suffer half of the journey sitting in economy seats with broken tables and inoperative TV".
Also read: Meerut: Upper caste men allegedly assaulted a Dalit youth, forced to abuse Dr BR Ambedkar; video goes viral