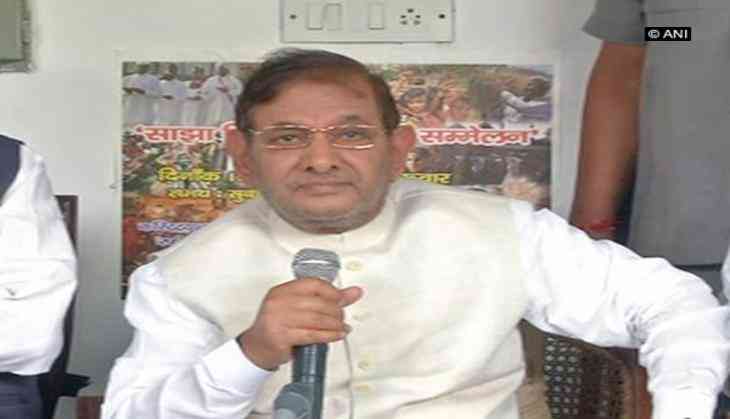 Senior leader Janata Dal (United) party (JD(U)) Sharad Yadav has announced that he would organise 'Sajha Virasat Bachao Sammelan' on 17 August aimed at saving "composite culture" here.
Addressing a press conference, Yadav said that the gathering will be attended by the leaders of the Opposition parties, intellectuals, farmers, Dalits and tribals from across the country.
"The leaders of Opposition parties have been discussing for the last three months to convene a conference as to how to save our composite culture," Sharad Yadav said.
Sharad Yadav added that he hoped to hold such a conference in various cities with an aim that "all citizens irrespective of any region or religion should come together to save our Constitution and composite culture as enshrined in the Constitution of India."
The JD(U) leader further said that on 17th August, hence, a ' Sajha Virasat Bachao Sammelan' will be coordinated by Sharad Yadav himself.
Talking about the Constitution of India, Yadav said, "The Constitution of India is a holy book which was given to the nation by the members who framed it in such a manner that our people should live together without any difference or the basis of caste and creed."
He further said that today the reverse is happening in our country, where the people of India are continuously living in "fear".
"At present Dalits, Tribals, farmers and unemployed youth are not only suffering, but are also not seeing any light after the tunnel now," Sharad Yadav said.
Yadav added that PM Modi, in his speech on 15 August, spoke that no kind of violence should be encouraged in the name of blind faith.
To this Sharad Yadav said, "I want Modiji to tell this to his own government and we would follow this as well."
Speaking about the preamble Yadav said they would make sure that the preamble of the constitution reaches every person in the country.
"I would appeal every citizen of this country to love all and be united for uplifting the cause of poor, backward, minority, and suppressed classes of society to make India more developed," he said.
On being asked whether Chief Minister Nitish Kumar would come for the conference, he said that everybody is invited to join this conference.
-ANI