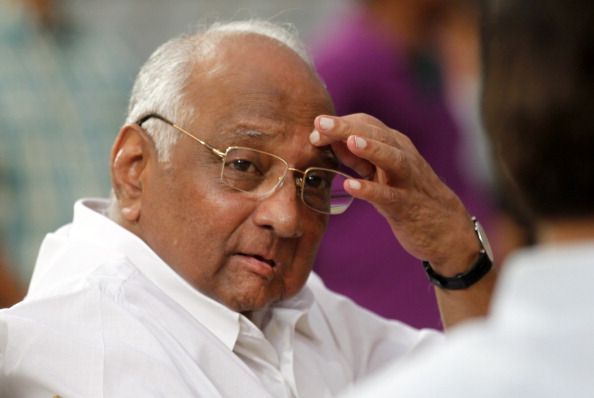 Maharashtra government should have no hesitation in taking advice from an "experienced" Sharad Pawar in tackling drought, the Shiv Sena said, but at the same time it criticised the NCP chief for "not using his position" as agriculture minister for betterment of farmers.
The party, which is part of the ruling coalition in the state, said that there should be no politics over the critical issue of drought.
"Sharad Pawar is an extremely experienced man. He is once again out on a tour of drought affected regions to take a stock of farmers affected by the natural calamity. The government should have no qualms about taking guidance from him," an editorial in Sena mouthpiece 'Saamana' said.
The party, however, hit out at other NCP leaders, saying they are "in the habit of playing politics over the drought conditions.
"They will shout and say the government took guidance from Pawar. Politics should not be played over the issue and Pawar should be the first person to realise this," it said.
Criticising the previous Congress-NCP government, the Sena said if measures were taken to cap the problems arising out of the drought conditions while the Congress and NCP were in power, the problems would not have grown manifold now.
"There was no work done on improving the irrigation facilities, nor were any steps taken to ward off the water scarcity problems. As a result, the problems have multiplied and have taken a turn for the worst," the party rued.
"The NCP had portfolios like building of dams, finance and energy with them for 15 years. Pawar himself was the (Union) agriculture minister, but he did not use his position for the betterment of farmers," the Sena said.
State Chief Minister Devendra Fadnavis along with his party colleagues has toured the drought hit regions and Sena leaders too will undertake a tour soon, "because being a part of the government it is our duty to do so. There is no question of politics," the ruling alliance partner said.
"Pawar too has toured drought-hit regions and has come out on the streets after 35 years. He too has asked for complete loan waivers for farmers. Should this not be called playing politics as well?" the Sena quipped.
--PTI