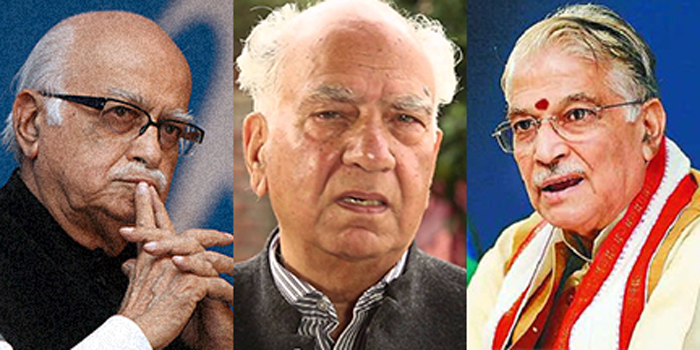 A day after BJP MP Kirti Azad was suspended for "anti-party activities", the party's Margdarshak Mandal members LKAdvani and Shanta Kumar held an informal meeting at Murli Manohar Joshi's residence.
The meeting began at 12:15 pm today and lasted for just 15 minutes.
According to sources, the meeting was a hush hush affair and no one in the Party was aware of it. what's interesting is that this meeting comes just a day after Azad said he would move the Margdarshak Mandal committee and ask them how could he be suspended for exposing corruption.
In the meeting the BJP veterans concluded that Kirti Azad's suspension sent a wrong message about the party trying to suppress the voice of a whistleblower. They would meet the Kirti Azad and also raise the issue in party forum.
Last time, after the BJP faced defeat in Bihar elections, members of the Margdarshak Mandal had gone public with their views and held the party high command directly responsible for the debacle.
BJP had suspended Kirti Azad on 23 December for speaking up against alleged irregularities in the DDCA, which was headed by Finance Minister Arun Jaitley between 2008-2013.
Azad went against the Party's diktat of keeping mum on the matter which was already being raised by the AAP government to corner the Centre on issues of corruption and raids on Delhi Chief Minister's Principal Secretary Rajendra Kumar.
Kirti Azad's suspension has left the Party divided and given a voice to many in-house critics, who are now raising concerns about the "increasing differences within the party". Even Subramanian Swamy, who has been aiding the BJP attack against the Gandhis "with his exposes" in the National Herald and the alleged British citizenship of Rahul Gandhi said that it was wrong to suspend "an honest man like Azad". He has even agreed to draft Azad's response to the Party notice on his suspension.
Shatrughan Sinha, who hasn't exactly been in the good books of the party top brass called Azad "a hero". Further, he pleaded with the party high command not to take any action against him for "fighting against corruption".