Somi Das
| Updated on: 16 July 2016, 12:29 IST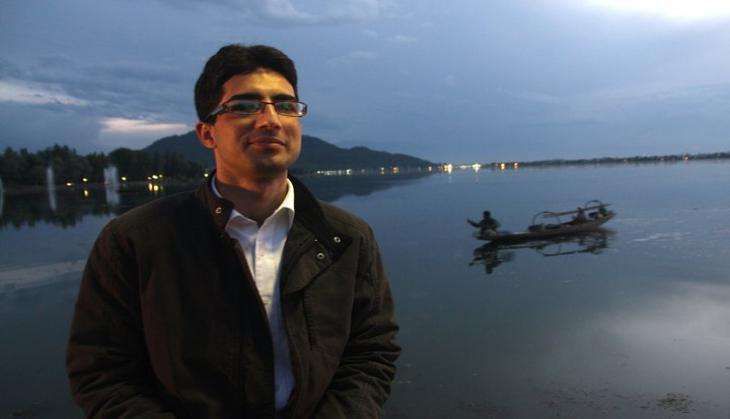 If you are a regular Facebook user there is no way you could have missed this post.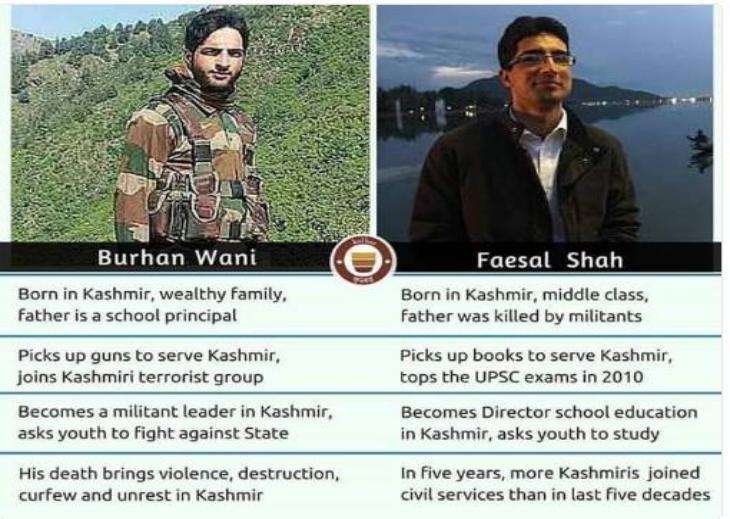 And if you have seen it, then chances are that you thought the juxtaposition made a lot of sense. So much so that you shared it with a preachy message oozing with praise for Shah Faisal's choices in life despite coming from the land of Hizbul Mujahideen commander Burhan Wani.
Kashmir Valley has been witnessing violent protests over the killing of Wani by security forces on 8 July. Thirty eight people have been killed in the unrest. Several hundreds injured. Many blinded by rubber pellets.
AFP photo
However, the hero of the post, Jammu and Kashmir's Faesal Shah isn't happy with the way he has been pitted against another Kashmiri in the viral post which was designed by Kulhar, a 'Media/News' organisation.
In an angry yet poignant post, Shah slams the media for sneakily making him part of their "sadistic propaganda machine". A hurt Shah threatens to quit civil services if similar "nonsense continued".
Read his full post here:
By juxtaposing my photos with the images of a slain militant commander, a section of national media has once again fallen back upon its conventional savagery that cashes on falsehoods, divides people and creates more hatred.
At a moment when Kashmir is mourning its dead, the propaganda and provocation being dished out from red and blue newsrooms is breeding more alienation and anger in Kashmir than what Indian state can manage.
Personal vulnerability apart, the very fact of becoming a part of a ridiculous debate is something which has disturbed me very much. Have I joined IAS to do a job or to become a part of your sadistic propaganda machine? In fact when I qualified this exam I never thought of spending my whole life scratching the desk and if this nonsense around me continues, I might prefer to resign sooner than later.
I am adding to what my younger colleague Yasin Chaudhary had said earlier in his Facebook post. ZeeNews Aaj Tak TimesNow and NewsX are not going to tell you the truth about Kashmir. Please mind your head.
No Government would want to hurt it's people and when a state kills and maims it's own citizens, it's self-injury and self-decimation of the worst sort, it makes the body-politic bleed as well. So no Government can distance itself from the pain of it's people and all out efforts are being made to contain this crisis and reach out to youth. It is going to take time.
Till then we have to steer safe from spoilers who want to set Kashmir valley on fire just for the sake of TRP.
Let's pray for those who lost their lives and their eyesight in the ongoing turmoil in Kashmir and stand by one another in this moment of truth. I didn't have net access all this while and today once I saw my timeline, I realised it was the time to speak up. Inalillahi wa Ina-ilaihi rajioon.
Kulhar, who designed the original graphic, responded with a Facebook post, "
"We have deleted our previous post on "Burhan Wani | Shah Faesal" following the Faesal Shah's message.
We add that our intentions were never to divide people and create hatred, as Faesal believes such narratives would do. Our aim was to put forward the two contradictory approaches available to Kashmiris for taking the valley forward, and then let people decide which one is better: Guns or Growth. Nonetheless, if such stories hinder the peace-building process in Kashmir then Kulhar team genuinely regrets its decision to publish the said post. Apologies!"