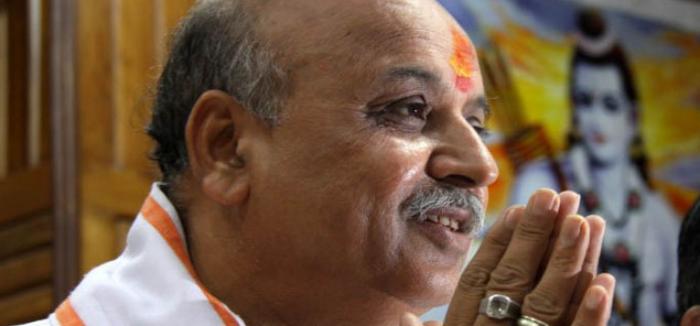 Vishwa Hindu Parishad Chief Praveen Togadia is infamous for his repeated controversial statements targeting religious minorities. In a recent incident, he called for a two-child law across the country and said that people who have more than two children should be punished.
"A serious extinction seems to be on the anvil. And it is of Hindus. There is a method in the systematic growth of Muslims," he wrote in an article for RSS mouthpiece organiser. The statement comes after a religion census data was released by the government, which showed that the share of Hindus in the population had fallen below 80 percent for the first time since independence.
Here are other instances where Togadia spoke sh*t.
On 22 December 2014, Togadia asserted that they will strive to increase the percentage of Hindu population in the country: "We are going to take percentage of Hindus to 100 in this country. Currently there are 82 percent Hindus in India, and we don't want this number to be halved. We won't tolerate Hindus becoming a minority in the country," he said.
In June 2015 in Bulandshahr, Uttar Pradesh, he said that the word Allah should not be used while practicing Yoga: "The use of word Allah during yoga would be an insult to Lord Shiva. The utterance of words 'Om' and the practice of surya namaskar are integral to yoga and hold supreme importance. Those who are allergic to 'Om' and surya namaskar should live with diseases."
July 2015, he made a vitriolic statement on a news channel, against Salman Khan after the actor posted a tweet saying that Yakub Memon should not be hanged:"The fathers of Salman Khan and Owaisi committed a mistake by not moving to Pakistan in 1947. Now they should do the right thing by moving to the Islamic Republic. I am convinced Salman will be very happy in Pakistan in the company of renowned jihadis and that his movies will also do much better business there."
According to The Indian Express, in November 2011, Togadia called for a new Indian Constitution which allowed beheading anyone who converted Hindus to their religion. The statement was made during Akhil Bhartiya Dharmaprasar Karyakarta Sammelan. However, he generously added: "I would suggest that we Hindus should include Buddhists, Sikhs and Jains because their line of thinking is no different from Hindus, except for a few small habits."
In April 2015, at a gathering in a house in Bhavnagar in Gujarat, he made controversial remarks on how Hindus can scare minority communities and prevent them from buying houses on Hindu majority areas: "Some people gathered and told me that Muslims are forcibly throwing us out, I asked them to take help of the police. The story is not about Muslims getting thrown out; it is about Muslims forcing Hindus out of their houses."
Another controversial statement was made by him during the 2014 Garba festival in Gujarat: "We must be alert so that not a single Muslim person can enter our Garba festival. Identity cards of each and every person must be checked at every event. Navratri is the festival of Mother Amba's prayers and worship, so we cannot allow beef-eaters Muslims to enter into Garba places."