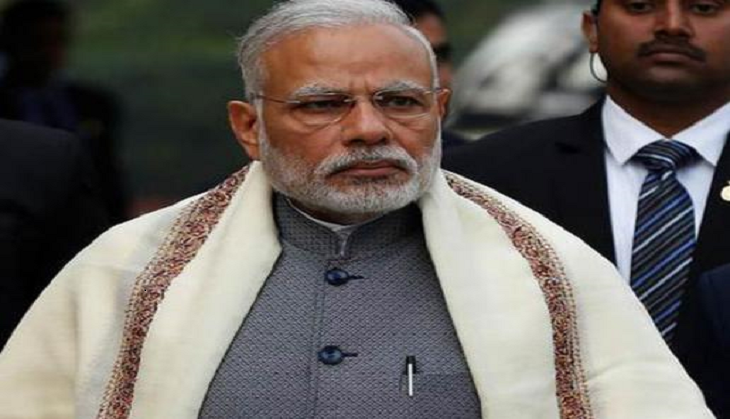 A sex worker, who hails from Bangladesh, has approached Prime Minister Narendra Modi and External Affairs Miniter Sushma Swaraj through Twitter and sought help in converting Rs 10,000 to new ones currency notes.
The girl, who was rescued from the brothel in Pune's Budhwarpeth, has tweeted a hand-written letter to PM Modi, according to Mid-Day.
The Rescue Foundation, an organisation that helped in rescuing the victim, has posted the letter on its Facebook as well.
The girl from Bangladeshi was lured to India under the false pretext of a job. After being in an abusive marriage for three years, she divorced her husband and started working at a garment factory for Rs 9,000 in Bangladesh. She was told that she could earn more money in India following which she decided to shift. Under the false pretext of job, she was sold to a Nepali women for a Rs 50,000.
She was rescued in December 2015 and has received clearance from her home country to accept her back.
While she was rescued from the torture, her belongings along with the money she saved after getting tips from customers were left behind at the brothel.
Here is the letter:
Respected,
Prime Minister,
Dear Sir,
My name is Sania (name changed) and I am 21 years old. I am from Bangladesh.
Through this letter I want to convey my small request to you. I have studied till 9th grade. Due to my Father's illness, I couldn't study further. My Mother and Father got me married when I was 16 years old. My husband never behaved well with me. He always asked my parents for money but they couldn't give it to him as we are poor. Due to this reason, he used to physically abuse me and hit me. I got troubled by him so much that I had to leave him and return to my parents' house. I filed for a divorce. After a month, I started working in a garment factory in Dhaka where I used to get nine thousand as a salary per month. I worked there for 2 years. I used to earn and take care of my family with that salary.
A guy working in the factory with me told me that I will earn fifteen thousand in India. I trusted the guy and came with him to India for work without informing my parents. The same man sold me at fifty thousand rupees to a Nepali lady in Vashi, Mumbai. He also took my mobile, my gold chain and ring.
The Nepali lady took me to Bengaluru and sold me to another lady who forced me into prostitution. I didn't want to work so I requested them, even begged so many times. Then the Nepali lady came to take me back to Mumbai. She said, "I will send you back to Bangladesh." But then, she brought me to Budhwarpeth (a red-light area), Pune and left me with another lady for prostitution.
The next day there was a raid by Police and I was rescued from there. They also rescued two more girls along with me. They sent me at Rescue Foundation Shelter home, Hadapsar in Pune. The sex work that I was forced to do in Bengaluru, they didn't give me any money for that. That lady took all my money but, I had the money that the customers used to give me as a tip. I used to hide the money from the tips and I collected it to go back to Bangladesh.
When the police rescued me, I didn't take all my belongings from there and I didn't even tell anyone there, that I have money in my bag. But, now that I want to go back and I also received my travel permit to go to Bangladesh. I told the madam in Rescue Foundation that I need my belongings back.
She, along with the Faraskhana Police helped me get my belongings and my money back. Then I showed them the Ten thousand rupees that I have saved. They all are the old 500 and 1000 rupees notes and madam said that I cannot use them anymore as they are invalid.
Sir, I request you to give me the notes in exchange of these old notes because I have saved this money from very difficult circumstances. I would be forever grateful to you if you give me my money in the form of new money. This money is very valuable for me. I am leaving for Bangladesh on 15th May. It will really mean a lot to me if you help me to change the notes.
Your daughter,
Sania.
(Translated by Rescue Foundation.)