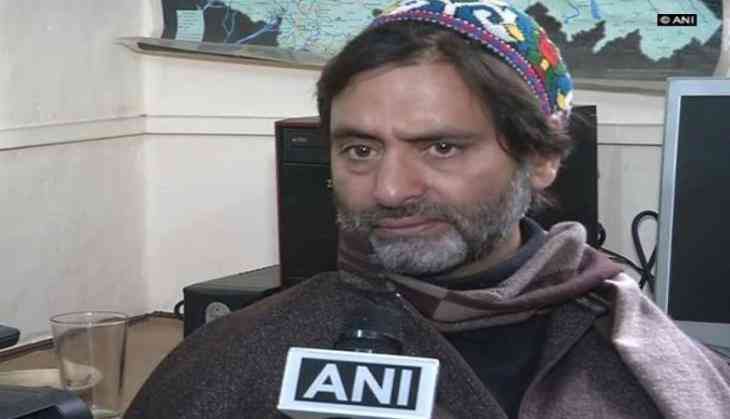 Kashmiri Separatist Yasin Malik virtually owns half of Lal Chowk, which is a prime location in Srinagar.
Yasin Malik, Chairman of Jammu Kashmir Liberation Front (JKLF), is under the scanner of the government agencies.
Yasin Malik virtually owns half of Lal Chowk, which is a prime location in Srinagar, say the sources, privy to the details of his properties that are with the government agencies.
"Malik is the benami owner of MS Mall at Lal Chowk. Fayaz Gainda is benamidar of Malik's Lal Chowk Properties," said a source.
The source further added, "Malik owns stake in Oasis chain of schools. He initially took government property in Gogchibag, Srinagar to start a school and later grabbed the property. The JKLF leader also has a stake in housing society being built in Nowgam."
According to sources, the government agencies have full details of the wealth amassed by the 13 top Kashmiri separatists: Syed All Shah Geelani, Altaf Ahmed Shah @ Fatoosh, Naseem Geelani, Nayeem Geelani, Farooq Ahmad Dar @ Bitta Karate, Shabir Ahmad Shah, Shabbir Shah, Yasin Malik, Mir Waiz, Mehraj-ud-din S/o Mohd Amin, Bashir Ahmed Bhat @ Peer Saifullah, Asiya Andrabi, and Nayeem Mohammed Khan.
The Kashmiri separatists have made fortunes for themselves and family for leading the separatism in the Valley and state.
The government agencies believe that they have also used the funds received from Pakistan to foment unrest and separatism in Jammu and Kashmir for their personal gains.
For example Shabir Ahmad Shah, Chairman of Jammu and Kashmir Democratic Front Party (JKDFP), has accumulated huge wealth during the over two-decade-old militancy in the state.
He was arrested on Tuesday by a team of the National Investigation Agency (NIA) from his Sanat Nagar residence in Rawalpora, district Budgam.
According to the sources, Shah owns a 25-room Bahal Shah Hotel in Pahalgam in Anantnag district, double story house in Jammu, three story house in Anantnag, 14-room house in Srinagar.
He has also has shares in different businesses, say sources.
The Kashmiri separatists are under the scanner of NIA after several top Kashmiri separatists were caught on camera confessing to receiving funds from across the border.
The sting operation, carried by a news channel, showed Hurriyat's Provincial President (Geelani Faction) Naeem Khan admitting on camera that Pakistan is funding the violence in Kashmir Valley.
The NIA visited Srinagar in May to probe the alleged funding by Pakistan for illegal activities in Kashmir, and questioned several separatist leaders on the issue of raising, collecting and transferring funds via the Hawala route and other channels to fund terror activities in Kashmir.
The NIA has so far arrested seven Kashmiri separatists and produced them before a Delhi Court on Tuesday which sent them to 10-day custody of NIA over money laundering charges to fund terror in the Kashmir Valley.
The arrested separatists are: Altaf Shah, Ayaz Akbar, Peer Saifullah, Mehraj Kalwal, Shahid-ul-Islam, Naeem Khan and Bitta Karate.
-ANI