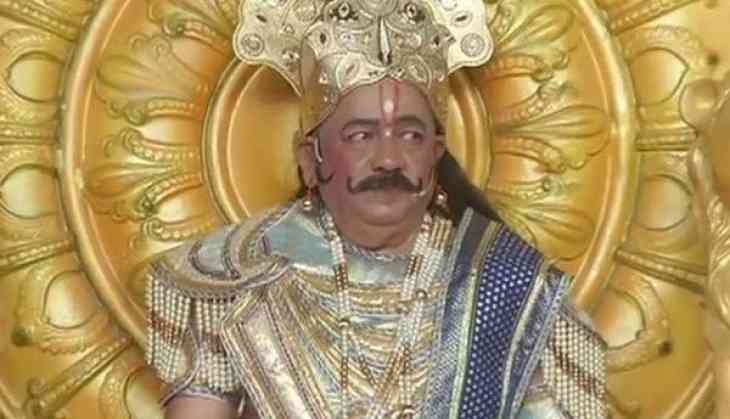 Union Minister of Science and Technology Dr Harsh Vardhan enacted the role of Raja Janak, Sita's father in the Luv Kush Ramleela on Friday.
Donning traditional metal gear and embellishing costumes, a big golden crown, Dr Vardhan delivered dialogues in chaste Hindi on stage as the audience cheered and clapped in the sprawling ground of Red Fort.
The Union Minister was unrecognisable with a thick moustache, strong make-up and a kingly outfit. He left the audience surprised with his get up and acting skills.
Before the enactment, Vardhan tweeted along with his pictures that he was going to portray the iconic role of Raja Janak.
Luv Kush Ram Leela, which is one of the oldest committees in the national capital, has been organising Ram Leela at Red Fort for decades.
Last year, Bhojpuri actor-turned-politician and Delhi Bharatiya Janata Party (BJP) president Manoj Tiwari had performed in Ram Leela in the national capital.
"Vindu Dara Singh will play Hanuman, we'll also have Delhi BJP's Vijender Gupta, Minister of State for Social Justice and Empowerment Vijay Sampla, and even Bihar lawmaker Sanjay Yadav, playing different characters of Ramayana," Luv Kush committee's president, Ashok Aggarwal told ANI.
Ram Leela, the theatrical enactment of Lord Rama's life, is held for nine days every year during Navratris, culminating in Dussehra- the festival marking the victory of good over evil.
#भगवान #श्रीराम हम सब के रोम-रोम में बसते हैं। श्रीराम इस देश के प्राण हैं। वो इस देश की आत्मा हैं। हमने अपने जीवन में यह हमेशा महसूस किया है, लेकिन व्यक्तिगत तौर पर आज मैंने भगवान श्रीराम को जितना नजदीक पाया वो मेरे लिए जीवन की बहुत बड़ी उपलब्धि है। #RamLeela #रामलीला @BJP4Delhi pic.twitter.com/iTdIWyoZEL

— Dr. Harsh Vardhan (@drharshvardhan) October 12, 2018