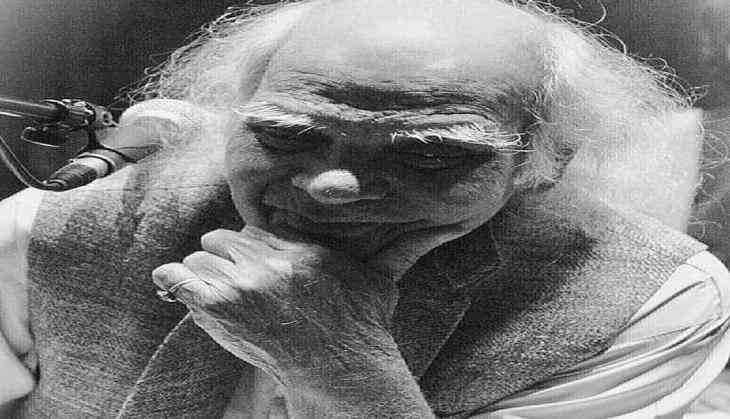 The last member of the renowned Dagar family of Dhrupad singers, Hussain Sayeeduddin Dagar, passed away in Pune on July 30 after a brief illness. Born on April 20, 1939 in Rajasthan's Alwar, Saeed Bhai, as he was fondly called, was the last surviving member among the eight brothers of the celebrated Dagrar Gharana of Hindustani music. He was 78.
Sayeeduddin Dagar represented the 19th generation of Dagar tradition which is considered to be the oldest existing form of north Indian classical music (Hindustani classical music). He leaves behind his wife, Rehana Begum and sons, Nafeesuddin and Aneesuddin, and a large number of disciples within the country and outside. Sayeeduddin Dagar's father, the late Ustad Hussainuddin Khan who was a "darbari" in the court of the Alwar ruler, was given the title, "Tansen Pandey", by the king who also granted him a "jagir" in appreciation of his services.
Hussain Sayeeduddin's tryst with classical music began at an early age of 6 when his father took him under his wing. Post his father's demise in 1963 young Hussain continued his learning from his uncle, the late Padmabhushan Ustad Rahimuddin Khan Dagar. Later he took training under his brothers and always called himself a student of Dhrupad.
The demise has come as a big shock to the family members and disciples alike besides to the large number of Dhrupad lovers the world over. "It is a great loss not only for us, the family, but also to the world of classical music. He had been ill for some time now. Last month he came down to Pune from Paris due to his illness. He had developed a urinary infection and was hospitalized," Ustad Wassifuddin Dagar, nephew of Sayeed Saab, informed.
"He was the last of the great music Mughals," said Iqbal Khan, art critic and Hindustani music exponent. "I was his first student in Jaipur and I have been learning from him the past 50 years," he said. "Both my sons also were taught by him," Mr. Khan said. "Till last he was fully immersed in music. The Ustad's last public performance in Jaipur was some six months back at the Jawahar Kala Kendra," he noted. There was a time when the Ustad used to take regular classes in Rajasthan College in Jaipur. That time even some of the present day politicians, including Pratap Singh Kachariawas and Rajeev Arora, were his students, he informed. "He was a versatile person. Can you imagine that Ustad was a hockey player of some standing? He was selected to play at national level though he did not pursue the career," Mr. Khan said. Sometime in mid eighties he had shifted to Pune though he used to be in live contact with Jaipur ever since.
"Sayeed Saab had impacted many a lives. He completely dedicated himself to Dhrupad. Each time I met him I gained lessons not just in music, but also in life. He was a repository if tales, anecdotes, experiences, all of which he shared generously with everyone who was loved to listen," said Ankit Agarwal, a photographer, writer, and an artist who is trained under the Dagar family. "I also remember that despite travelling for hours he never complained about a jet lag and was always in for sharing his experience and teaching ," said Mr. Agarwal.
As for the Dagar Gharana, the prominent practitioners now include his two sons, Nafeesuddin and Aneesuddin, nephews, Wasifuddin and Bahawuddin, who also plays rudraveena, besides the large number of disciples outside the family. Sayeeduddin Dagar has considerable following in Paris, Holland and Belgium where he had been devoting at least 4-6 months of the year in the recent past helping to generate interest in Indian traditional art forms, especially Dhrupad.
The body is being brought from Pune to Jaipur by late evening. The last rites are scheduled to be held here on August 1.