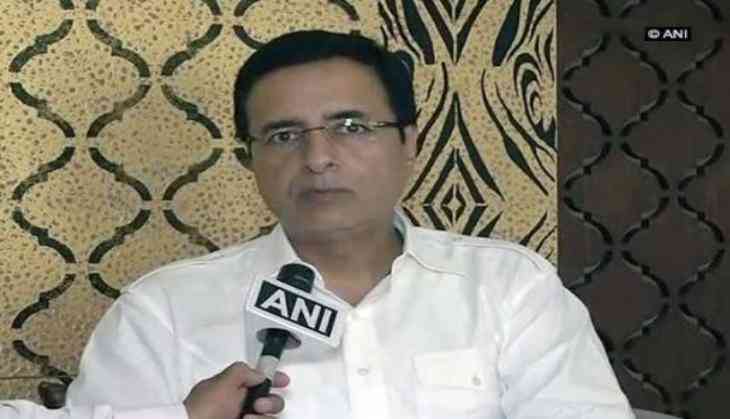 Commenting on the high-level meeting called on by Minister of External Affairs Sushma Swaraj and Union Home Minister Rajnath Singh, the Congress on Friday said that it was satisfying to know that after three years, the government had finally woken up and had convened a meeting to brief the Opposition on the Indo-China standoff and the current and the emerging issues.
Congress leader Randeep Surjewala, in a press briefing, said that for the past three years, the Congress has repeatedly been demanding that the BJP takes the Opposition into confidence on all issues concerning national security.
"We repeated this demand on June 30, as the current Indo-China standoff in Bhutan raised great concerns and serious implications for the national security," he said.
"We shall support the government in every endeavour to defend our national interest and our borders," Surjewala said.
Surjewala also added that during the ten years of the United Progressive Alliance (UPA) Government, the Congress always ensured that the Opposition leaders were briefed on such issues.
He further said that the Congress shall attend the meeting, and shall ask government to share full information about background and situation that exists on Indo-China border and also on Bhutan border where the standoff continues.
He said, "We shall also ask the government to clarify all the implications for the national security and the necessary steps taken to protect our national interests."
He concluded that if need arises, the Congress party leaders shall make an appropriate statement after the meeting.
Union Home Minister Rajnath Singh and External Affairs Minister Sushma Swaraj will jointly brief a meeting today on the ongoing India-China border standoff.
National Security Advisor (NSA) Ajit Doval will also be attending the meeting.
The invitation had been sent to all prominent Opposition leaders.
The tensions between China and India have been escalating for the past three weeks over the borer standoff at the Doklam area. The rift arouse after Chinese Army's construction party attempted to build a road near the area.
Doklam region, called in Bhutan, is known as as Dok La in India which China claims, Donglang region, as its part.
-ANI