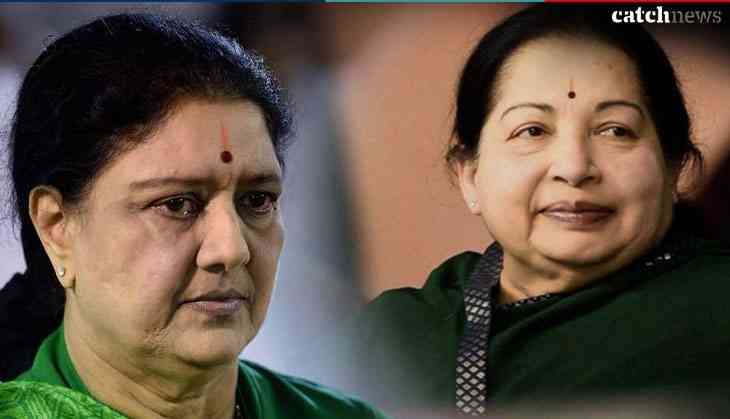 The Namadhu Amma newspaper's mouthpiece published on Wednesday claimed that VK Sasikala waited for Jayalalitha to die and prevented her from receiving treatment so they could grab power. The AIADMK's mouthpiece published a family tree showcasing Sasikala, who took over as party chief soon after Jayalalithaa died in December 2016, and her relatives.
In a poem, it speaks of a 'mafia group' which it says craved power, prevented "further treatment" for the former chief minister, and "waited till the end." the governance of 60-year-old Sasikala at the helm of the AIADMK didn't last long. She was convicted by the court in a disproportionate assets case and jailed. AIADMK's loyal lawmakers of Sasikala then joined hands with a rebel leader, O Pannerselvam, who is now Tamil Nadu's deputy chief minister. They later won the right to use the party's iconic election symbol.
Sasikala and her relatives, including her nephew TTV Dhinakaran, who is now the MLA from RK Nagar, the assembly constituency Jayalalithaa represented at the time of her death. have been called "the Mannargudi mafia". Dhinakaran commands the loyalty of 18 AIADMK lawmakers, whose disqualification has been challenged in court.
AIADMK's poem also mentions Jazz Cinemas, which is run by Sasikala's another nephew, Vivek Jayaraman, It says that by acquiring the Chennai movie complex, Sasikala's family showed everyone that "nobody among us is poor". The Arumughasamy Commission is piecing together the circumstances that led to Jayalalithaa's hospitalisation and subsequent death.
Also read: The Chief Justice is the 'Master of Roster', has power to assign cases, rules SC in former Law minister Shanti Bhushan's petition