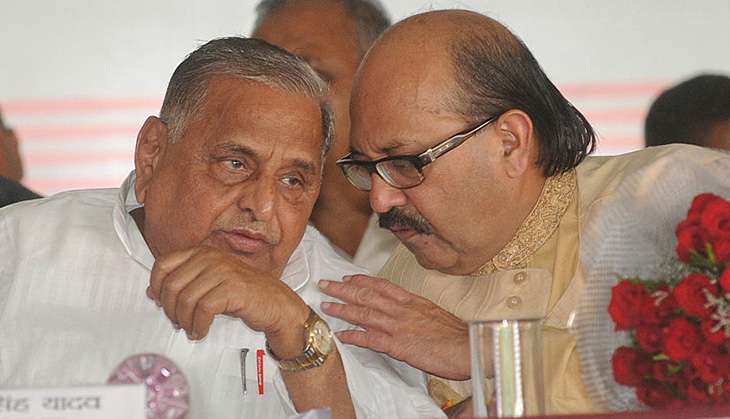 Amidst the family feud in the Samajwadi Party between Uttar Pradesh chief minister Akhilesh Yadav, national party president Mulayam Singh Yadav and the state's party president Shivpal Yadav among other leaders, Amar Singh said he will always be with Mulayam Singh Yadav's son Akhilesh though he might not be with Chief Minister Akhilesh Yadav.
He said,"I may not be with CM Akhilesh (Yadav) but I will always be with Mulayam Singh Yadav's son Akhilesh."
Hinting at his disturbed relationship with Akhilesh Yadav, Singh said he gets to meet Congress President Rahul Gandhi but not Akhilesh Yadav.
Dismissing the allegations that he called Samajwadi Party leader Ram Gopal Yadav "napunsak" he said he did call him names like "Bal Gopal" but never abused him. He said, "never called Ram Gopal ji 'napunsak'; I have called him names twice including 'Bal Gopal,' but never used abusive words as such".
Singh added that he was ready for any sacrifice if that could help in finding a solution to the ongoing tussle within the party before the state elections.
Earlier, during a public meeting Akhilesh Yadav had reportedly called Singh a "dalal" blaming him for creating a disturbance in the family and the Samajwadi Party but was straight away interrupted by father Mulayam Singh Yadav. Mulayam, while speaking in support of Amar Singh, had said that it was because of Singh that he was not in jail.
Singh said that he was "hurt by his (Akhilesh Yadav) words (where UP CM allegedly called him a 'dalal'). There is no photo of his wedding where this 'dalal' is not there", adding that when the whole family was against Akhilesh's marriage, it was Amar Singh who had supported him.
--inputs from ANI