Samajik Ekta Manch - a civilian front set up by Chhattisgarh police to attack human rights activists and journalists disbanded on Friday morning. Sampat Jha, one of the founding members of SEM, closely linked to the local Congress unit in Jagdalpur, said SEM was being shut down because of the 'slander campaign' against them.
"We had begun our fight against Naxals and we became target by them and their sympathisers in the process. The whole idea was to help police in setting up a more peaceful Bastar but we were not allowed to work and because of the constant smear campaign against us, we decided to disband today."
The group had off late come under heavy criticism for its slander campaigns and hooliganism by local and national media. Recently, members of SEM heckled noted scholar and human rights activist Bela Bhatia, who has constantly raised her voice for the rights of adivasis, and distributed pamphlets calling her a 'Naxal pimp'.
Earlier in February this year, a Scroll journalist had lodged a complaint against SEM, which had vandalised her property and threatened her against staying and reporting from Bastar. Eventually, after being coerced by police and SEM, the journalist had to pack her bags and come to Delhi.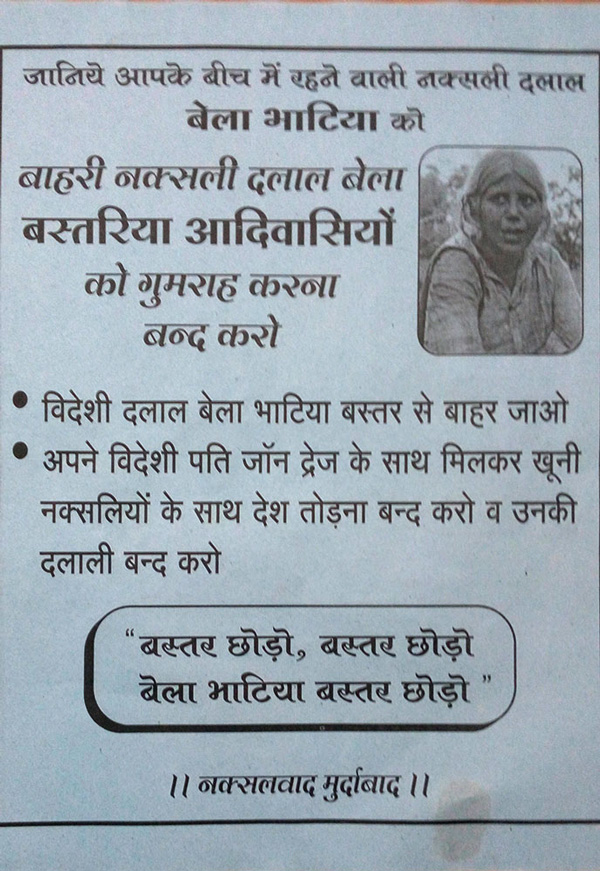 नक्सल मोर्चे पर केंद्र सरकार,राज्य सरकार,जिला प्रशासन एवं पुलिस प्रशासन को सहयो��-- करने की मंशा के साथ बस्तरवासीयों ने सामाजिक एकता मंच का ��--ठन किया था । सामाजिक एकता मंच ��...पनी इसी मंशा के साथ नक्सलवाद के ��-़िलाफ़ शांतिपुर्ण,लोकतांत्रिक विरोध प्रदर्शन करती रही है । परंतु एेसा ��...नुभव हो रहा है कि,सामाजिक एकता मंच के बहाने कुछ लो��-- सरकार,प्रशासन एवं पुलिस को बदनाम करने की कोशिश कर रहें है । इन परिस्थितियों में सामाजिक एकता मंच के सदस्यों ने सर्वसम्मति से फ़ैसला लेकर आज दिनांक १५ ��...प्रेल २०१६ को सामाजिक एकता मंच को तत्काल प्रभाव से भं��-- कर दिया है । -सामाजिक एकता मंच बस्तर

Some had begun to see a revival of the infamous Salwa Judum campaign in this group, because both the police funded programs had similar origins.

The ragtag group of people associated with Salwa Judum, BJP and Congress never hid its proximity with the most powerful man in Bastar - its IG, SRP Kalluri. The IG along with several other high ranking police officials were regularly spotted in functions organised by SEM.

Catch had also reported a story about a high-ranking police official talking about how SEM was set up as part of police's 'guerilla warfare'. This is what the officer had said -

"The group won't be allowed to continue for long... because the last time such a front was established (Salwa Judum), its leader (Mahendra Karma) had developed political ambitious. So, to ensure it does not come back to haunt the force, the group would be disbanded within two to three years. Then, some other front would be created."

Read more: Bastar cop: Samajik Ekta Manch is our version of guerrilla warfare