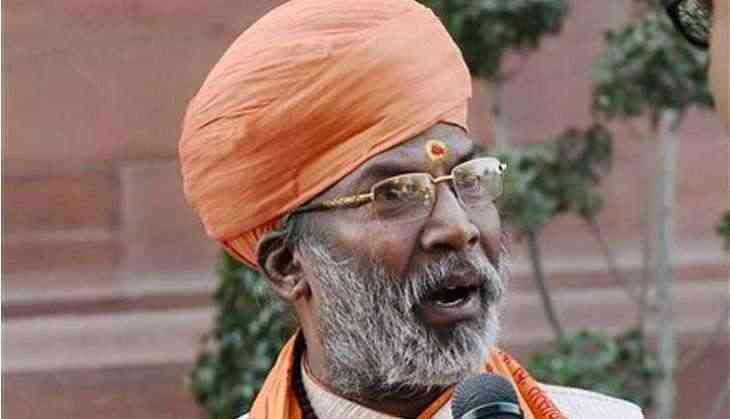 Amid ongoing row of people being detained for chanting 'Jai Shri Ram' in West Bengal, Unnao parliamentarian Sakshi Maharaj on Monday attacked the Trinamool Congress chief Mamata Banerjee and said she belonged to the family of the demon 'Hiranyakashyap' as she "conspires against those who say 'Jai Shri Ram'."
"There was a rakshasa (demon) called Hiranyakashyap. His son said 'Jai Shri Ram' and the father shot his son in jail. The same thing is being repeated in Bengal and it looks like Mamata belongs to the family of demon Hiranyakashyap as she conspires against those who say 'Jai Shri Ram'," the BJP leader was quoted as saying in a report by ANI.
Sakshi Maharaj, BJP MP from Unnao: 'Jai Shri Ram' kehne walon ko jail mein bheja ja raha hai, parinaam ye hogya hai ki 'Jai Shri Ram' kehne se vo (West Bengal CM Mamata Banerjee) khisiyane lagin, sadak pe utarne lagin, aur us ke virodh mein pata nahi kya-kya yojnaein banane lagin https://t.co/HxWV7nRMjO

— ANI (@ANI) June 2, 2019
A BJP and TMC have been engaged in a war of words that kick-started during Lok Sabha election and led to violence in the state during national poll with saffron party supporters chanting 'Jai Shri Ram.'
"Those who say 'Jai Shri Ram' are being sent to jail. The result is such that those who say this is faced by Mamata in gullies and streets and (I) don't know in her anger, what plans she may have," Sakshi Maharaj added.
West Bengal CM in a Facebook post on Monday alleged that the BJP is using the slogan to "create unrest in West Bengal by mixing religion with politics". "This is a deliberate attempt to sell hatred ideology through vandalism and violence, which we must oppose together," she wrote.
On Saturday newly-elected BJP legislator Arjun Singh threatened to send the Mamata Banerjee "10 lakh postcards with 'Jai Shri Ram' written on them".
Also read: Shankaracharya Swaroopanand: Govt should fulfil its promise of constructing Ram temple in Ayodhya