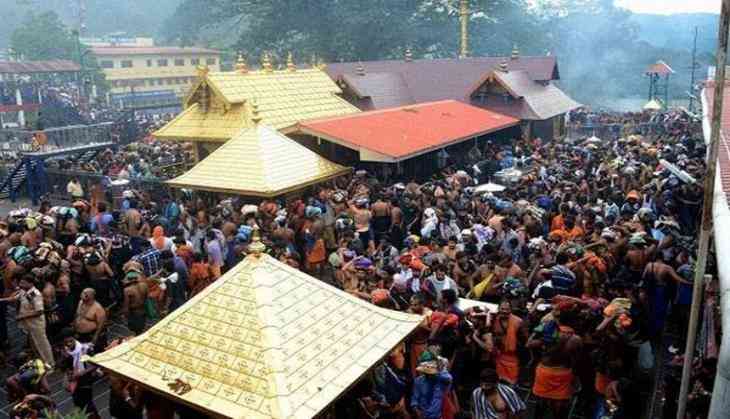 Amidst the protest against the entry of women in the Sabarimala temple, violent clashes broke out near the premises as 70 people were arrested.
The protest was carried out in several places of Kerala, including outside the residence of Chief Minister Pinarayi Vijayan.
Today, the board of Sabarimala temple was to file a plea in the Supreme Court, demanding an extension to implement the order until November 28.
The protest started at around 11 pm when few devotees carrying offerings for Lord Ayyappa started raising slogans to remove police force from the temple premises and let the devotees enter the temple and pray accordingly.
The protesters were detained afterwards by the police and they were demanding a complete withdrawal of the police and administration.
"How can we witness Nei Abishegam (ghee pouring ritual) if they ask us to leave at night," P Dhiresh, a devotee told NDTV.
Reacting to the incident, BJP minister K J Alphons said that it was worse than Emergency. He said, "A situation worse than emergency is happening here. The devotees are not allowed to go up. Section 144 is imposed for no reason. Devotees are not terrorists. Why do they need 15,000 policemen here?"
One of the police officer said, "We have the larger responsibility of ensuring the safety of the thousands of pilgrims and we don't want the shrine turned into hotbed of revolt."
Th Supreme Court had earlier in a verdict had ruled that women of all ages can enter the temple premises, in a Constitution bench order of 4-1.
Also read: Center vs RBI: Reserve Bank begins board meet; government to resolve the RBI tussle as governor Urjit Patel
A situation worse than emergency is happening here, the devotees are not allowed to go up. Section 144 is imposed for no reason. Devotees are not terrorists, why do they need 15000 policemen here? : KJ Alphons MoS Tourism on #SabarimalaTemple issue pic.twitter.com/sOHaC3dAXP

— ANI (@ANI) November 19, 2018