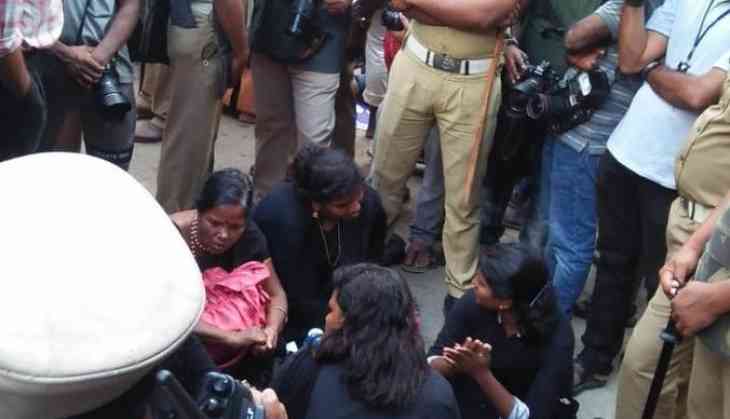 Amid protests in Kerala, the controversy has again erupted as around 11 women have arrived to enter the Sabarimala temple premises amidst the tight security.
The women, in which six of them are below 50, started their journey from Madurai in Tamil Nadu by road and police security was provided to them. And the arrived at Pamba at around 3:30 am in the morning today, which is less than 4 Kms away from the Lord Ayyappa's shrine.
A police officer posted at the Sabarimala told the NDTV, "A total of 11 women have arrived. But only six of them want to trek to Sabarimala and the others say they came only to provide protection to them. We are awaiting instructions from senior officials."
Sneha Koshy had tweeted saying, "First set of 11 women, between the age of 20-50 years, reach Sabarimala's pamba police station by road, way before crack of dawn. 6 of them want to go ahead for darshan, 5 others accompanied for support."
Kerala: A group of women devotees gather at Pampa base camp to trek to #SabarimalaTemple. pic.twitter.com/1ZzgNAUv8l

— ANI (@ANI) December 23, 2018
As per the Supreme Court's Constitutional bench verdict, the women of all age group were allowed to enter the temple premises and had held that the rule existing in the temple is regressive and against women's rights and autonomy.
But, a review petition has been filed in the Supreme Court by the Sabarimala trust and the court has given the next date of hearing in January 2019.
A woman told the NDTV that "We are strategically moving. There are many Dalit women also who are reaching Sabarimala for darshan today. The state and the police have to show enough will to ensure that we can have our rights. We all have taken the required fast (for the darshan)."
Also read: Watch: MP Congress MLA Kalawati Bhuria threatens to transfer District Collector, officer transferred
Kerala's Devaswom Minister Kadakampally Surendran: Kerala High Court has appointed a three-member committee including two judges to observe the activities of #SabarimalaTemple. The committee will take the decision and the government will implement it. (File pic) pic.twitter.com/4BrRKCT5tY

— ANI (@ANI) December 23, 2018