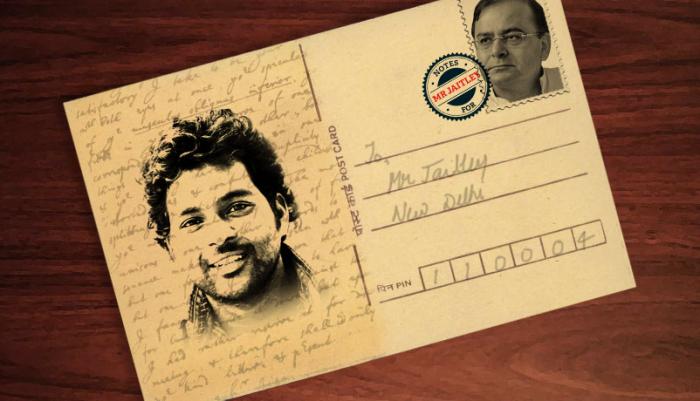 Dear Finance Minister,
I am not sure if I am the right person to speak on behalf of the crores of people in India who cannot detach themselves from the well-defined categories like 'Scheduled Castes' and 'Tribals'. But my decision to pen this letter stems from my desire to eradicate the stigma surrounding my Dalit tag - something I know that countless others are also fighting for.
I speak of the stigma that has hounded me since my birth. My mother was adopted into a high caste family, but was deprived of everything that other children of the house received - all because of her caste. I studied hard, hoping to make up to my mother who singlehandedly brought us up, toiling away at her sewing machine. The university grant was my family's only source of funds, but that too was withheld. The suspension of funds paralysed my studies, and with it, my strength to pursue my dreams.
I'm sure my agony is one that is all too familiar for many lower caste and tribal scholars across the country - many of whom spend a majority of their lives worrying about repaying off hefty student loans or chasing the release of grants from universities. An alarming number also give up on their studies and aspirations.
Mr Jaitley, "Sabka Sath, Sabka Vikas" has been a key principle of your party. I remember Prime Minister Narendra Modi promising to make the economy fairer for Dalits, Tribals and other marginalised groups. But unfortunately, this projected integration seems to gotten lost in the larger scheme of things. And your words are all I have now.
The Scheduled Caste Sub Plan (SCSP) and the Tribal Sub Plan (TSP), the most important budgetary components and lifeline supporting the overall development of Dalits and Tribals have been disappointingly axed by the government. Between 2012-13 and 2015-16, the allocation for UGC under SC/ST sub plan was cut by 50 per cent. Oddly enough, 2015-2016 was also the time when you rolled out number of social security schemes. What am I supposed to make of that?
To add to the miseries are the growing reports of diversion, underutilisation and misallocation of these funds. The Comptroller and Auditor General (CAG) report of 2007 highlighted these issues. Estimates by a Dalit rights group pegs the misallocation and deflection of funds - under the SCSP and TSP in the 2015-16 budget - at a whopping Rs 30,000 crore. Where is this money going? And why isn't it reaching the people who need it?
Several instances have been recorded where the money from these funds is allegedly shuttled into infrastructure and other state-owned assets like hospitals, stadiums and colleges. Does that sound fair to you, Mr Jaitley?
Let's talk about universities. Not only do students like me have to deal with regressive attitudes of the teachers, administration and sadly, our peers but we also have to beg for the grants which are allegedly held up by the universities due to grievances. Students in self-financing colleges fret about their future as the management pressurises them into paying the fees. My female colleagues have it even tougher. Every day is a battle.
But you know all of this, Mr Jaitley. You're a smart man and I hope that you are the one that finally puts an end to the assumption - that Indian governments have held since Independence - that these allocations are survival-oriented. Wouldn't they be more effective if they were expanded with a focus on acquisition of knowledge, building of assets, skill development and other opportunities for these groups? Merely dividing resources won't help. What India needs is better means of integration. This, and only this, will free us of the shackles of class and caste.
Unfortunately, India is still debating and battling problems of casteism even after 67 years after Independence. Mr Jaitley, your government talks of establishing smart cities, of creating a Skilled and Digital India. But where exactly do underprivileged Indians fit in this scheme of things? It frightens me to think that the underprivileged may not feature in your government's vision of a self-sustaining and powerful India - a force to be reckoned with world over. We have what it takes to be that nation, but only if we leave no man behind.
The errors can still be undone, Mr Jaitley. The ball is in your court.
Thank you,
Rohith Vemula
* Opinions compiled from Dalit and OBC students
Also read: Umar Khalid & Anirban Bhattacharya surrender. But students vow to continue Rohith's fight