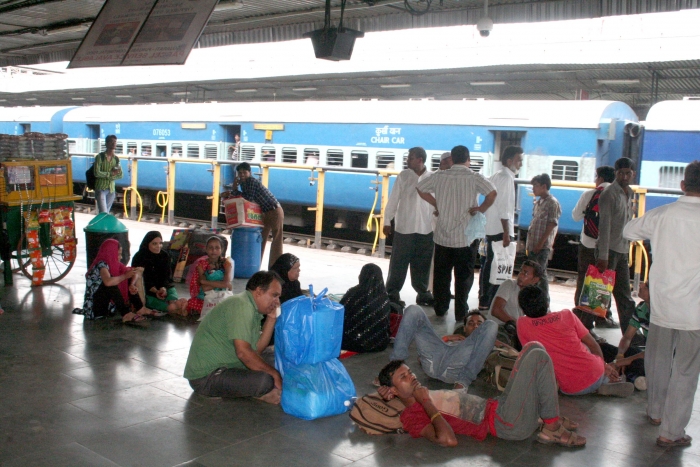 A relief train which was carrying the survivors of Janta Express which derailed in Madhya Pradesh reached Lokmanya Tilak Terminus (LTT) station on Mumbai on 6 August.
Special arrangements were made on platform no. 4 of LTT in Kurla to receive the passengers who arrived by the train at around 10 AM on 6 August, a Central Railway official said.
"Working like good samaritans, even porters, out of good gesture, volunteered to carry luggage of the passengers free of cost," CR spokesperson A K Singh said.
Though over 700 passengers boarded the accident relief train from Itarsi in MP, only about 250 finally reached LTT, as most of them got down at Bhusaval, Manmad, Nashik Road, Kalyan and Thane, another railway official said.
"First, the passengers were brought to Itarsi where they boarded the special train which was diverted via Nagpur route," the official said, adding that most of the passengers appeared tired and aggrieved after witnessing the derailment.
The passengers were welcomed by their anxious family members at LTT and few of them turned emotional and even broke down after experiencing the horrific journey in Janta Express, said Subhash Gupta, a rail activist and member of Divisional Railway Users Consultative Committee (DRUCC).
Though railway administration tried to help the passengers, there was lack of proper arrangements regarding information to the harried passengers, which shows that railway is not learning lessons from the repeated accidents, he said.
Twenty five people were killed and 50 others injured when two express trains passing each other derailed while crossing a railway bridge struck by flash floods in Harda district sending 17 bogies and one engine tumbling into a rain-swollen river.
The twin derailment that occurred at around the same time at about 1130 PM on Tuesday involved the Varanasi-bound Kamayani Express from Mumbai, which capsized first, and the Mumbai-bound Janta Express originating from Patna that was coming from the opposite direction.
-PTI