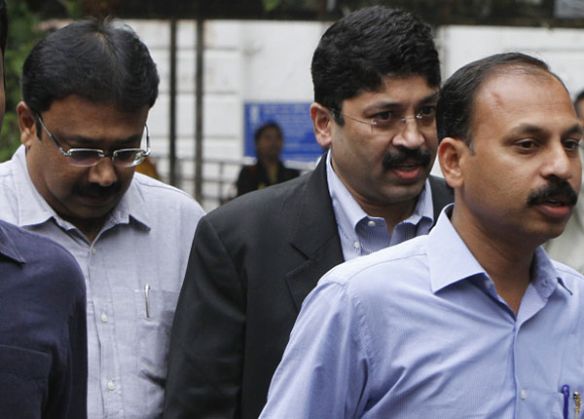 In a relief to former Telecom Minister and DMK leader Dayanidhi Maran, the Supreme Court on 12 August stayed the Madras High Court order cancelling his bail in the alleged telephone exchange case.
A three-judge bench headed by Justice T S Thakur sought CBI's response on Maran's plea and questioned its decision to arrest him in a case registered in 2013.
"What were you doing for the last two years. Why you have not arrested BSNL officials... Political vendetta should not come in the picture. Less said, the better," the bench said.
Attorney General Mukul Rohatgi, appearing for CBI, then referred to the facts of the case to stress that it was a huge corruption case as the telephone lines installed at Maran's residence were used for commercial purposes by their electronic media conglomerate SUN TV.
"If these corrupt actions are not covered, then what for there is Prevention of Corruption Act," Rohatgi said.
Maran, in his tenure as telecom minister got telephone lines installed at his Chennai residence and they were exclusively used by the SUN TV network for commercial purposes and prima facie estimates shows that a loss of Rs 1.20 crore had been caused to the state exchequer, he said.
The bench, which initially posed tough questions to Maran's counsel, later turned the heat on CBI and questioned its insistence on custodial interrogation.
The bench then referred to the NRHM scam in Uttar Pradesh and said, "This is not something where you need to arrest a person. In UP, Rs 8,000 crore went down the drain. Not a single person has been arrested... Why do you want him in custody?"
Rohatgi sought some time to respond to certain queries raised by the bench which fixed the matter for hearing on September 14 and asked the probe agency to file its response within two weeks from today.
Maran had moved the apex court yesterday challenging the Madras High Court's decision to cancel his bail and asking him to surrender in a case.