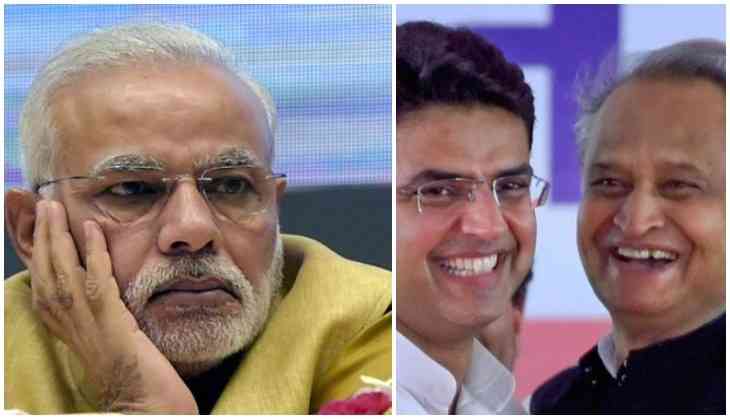 PM Modi and Rajasthan's CM & Dy CM
Rajasthan Deputy CM designate Sachin Pilot said at AICC headquarters, "Isi kamre mein ham baithe the, aur kisko maloom tha ki 2-2 crorepati ban jaayenge" pic.twitter.com/80U7NSlYb6

— ANI (@ANI) December 14, 2018
Rajasthan's deputy CM Sachin Pilot, who is currently a member of parliament will resign from his seat as he won from the Tonk constituency. As per Election Commission's data, Sachin Pilot had around Rs 5 crore as asset which he declared in General Election of 2014. He also files income tax of Rs 10 lakh every year.
Now, CM designate Ashok Gehlot, who has been the chief minister of Rajasthan twice in 1998 and 2008, has around Rs 6.5 crore asset and he yearly files income tax to the tune of Rs 18.5 lakh.
It's a clear fact that both the leaders of the Congress party are more rich than the Prime Minister Narendra Modi.
Also read: Sachin Pilot becomes Deputy CM of Rajasthan, says, 'Mera aur Gehlot ji ka jadoo puri tarah chal gaya hai'
Rajasthan CM designate Ashok Gehlot: We would like to thank the public and our workers. Oath ceremony of Chief Minister & Deputy Chief Minister will take place on December 17 & then the cabinet will be inducted pic.twitter.com/hnnxP2U7WY

— ANI (@ANI) December 14, 2018