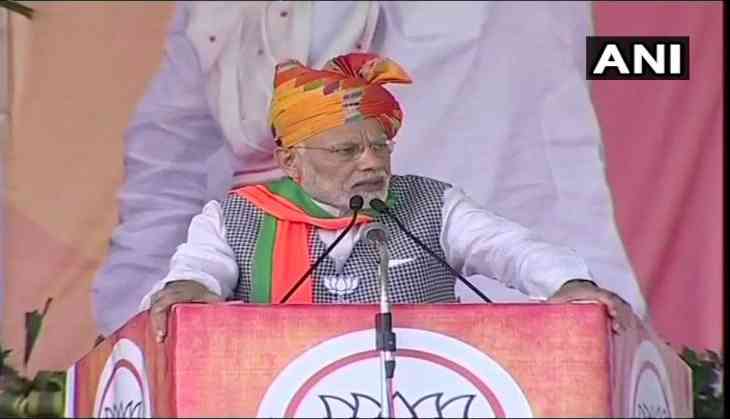 Amidst the polling in Madhya Pradesh and Mizoram, PM Narendra Modi is rallying in Nagaur, Rajasthan and has directly attacked the scion of Gandhi family and the Congress party.
PM Narendra Modi has taken a jibe at the Congress president saying, "I have lived my life the way you have. Neither you nor I was born with a silver spoon. Your parents have never ruled nor have mine."
As voting in Madhya Pradesh and Mizoram is currently underway, which has been around 21% and 29% respectively, PM Narendra Modi has started his rally and attacks on Congress party in the campaign which has been the regular case of the BJP.
PM Narendra Modi attacked Rahul Gandhi's ill informed attitude in the rally, alleging that "Kuch log aise hain jinko maloom nahi hai ki chane ka paudha hota hai ya ped, jo moong aur masoor mein farak nahi samajhte vo aaj desh ko kisaani sikhane ke liye ghoom rahe hain."
The issue of unemployment, inflation and mob lynching are not being addressed by the ruling dispensation, which is facing a heat from the people in Rajasthan and the recent jumla of providing 50,000 lakh jobs to the youths in Rajasthan remains to be seen.
PM Modi raised the emotional card in the rally after bring in his mother and the poor state in which he has lived in his childhood, and it became a satire for Rahul Gandhi.
He said, "Dhuan kya hota hai naamdar ko nahi malum,lakdi ka chulha kaise jalta hai naamdar ko nahi malum. Maine bachpan mein ma ko lakdi ke chulhe par khana pakate dekha hai,dhuen se aankhon se paani nikalte dekha hai,isliye Ujjwala yojna shuru karne ki prerna mili."
Also read: Madhya Pradesh Election 2018: As Congress' Jyotiraditya Scindia casts his vote, he asserts 'I assure you that
Kuch log aise hain jinko maloom nahi hai ki chane ka paudha hota hai ya ped, jo moong aur masoor mein farak nahi samajhte vo aaj desh ko kisaani sikhane ke liye ghoom rahe hain: PM Narendra Modi in Nagaur #RajasthanAssemblyelection2018 pic.twitter.com/4GEduMv4OI

— ANI (@ANI) November 28, 2018
Dhuan kya hota hai naamdar ko nahi malum,lakdi ka chulha kaise jalta hai naamdar ko nahi malum. Maine bachpan mein ma ko lakdi ke chulhe par khana pakate dekha hai,dhuen se aankhon se paani nikalte dekha hai,isliye Ujjwala yojna shuru karne ki prerna mili:PM in Nagaur #Rajasthan pic.twitter.com/ucytHRXZ6i

— ANI (@ANI) November 28, 2018