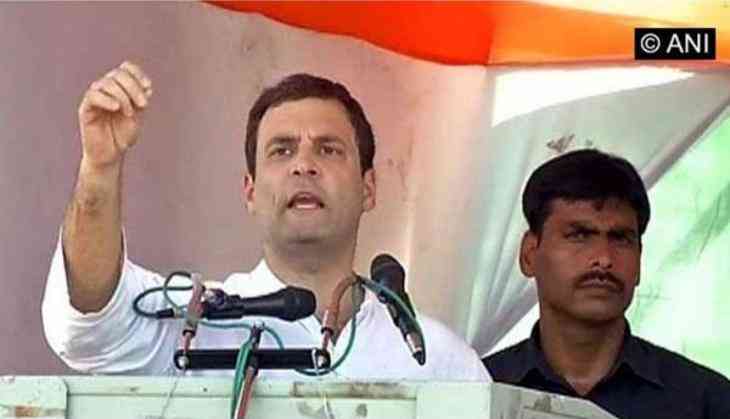 Rahul Gandhi addressing party workers in Gujarat
Congress vice-president Rahul Gandhi on 4 September took a shot at Prime Minister Narendra Modi over his various policies and said that the Indian media is run by a handful of his men. He even called the media 'angrezon ke zamaane ki media' (belonging to yesteryear), in a reference to Bollywood movie 'Sholay's jailor.
Campaigning for his party on his one-day Gujarat visit for the upcoming Assembly elections, Gandhi left no chance to berate the Union Government.
"There are people in media who want to write against Modi, but it is the time of 'dictatorship', so they are suppressed and meek under his rule," he said.
Accusing the Union Government of capitalism, Rahul said "Gujarats's farmers are under the debt of Rs. 36,000 crore. While Modi has given Tata Rs. 36,000 crore as bank loan and Rs. 60,000 crore in total for their Nano project, which is twice the debt of Gujarat's farmers. But has anyone seen a Nano on the roads of Gujarat? So, it is all about the priorities."
Talking about the party's ticket distribution strategy, he said "It is the fight of ideologies. The Bharatiya Janata Party (BJP) works on the ideology of benefitting the corporate, whereas the Congress works for the welfare of the farmers, the poor and the weak. Anyone who works against this ideology will not be given space in the party."
He further said that whoever fights against the BJP or the Rashtriya Swayamsevak Sangh (RSS) on the ground will be presented with an election ticket.
Commenting on 'Mann ki Baat' and demonetisation, Rahul said, "Modi ji didn't like the Rs. 500 and Rs. 1,000 notes, and as he is the Prime Minister, he thought he need not ask or inform anyone before declaring the money illegal. He only likes to express his 'Mann ki Baat', but doesn't prefer listening to others' 'Mann ki Baat'."
-ANI