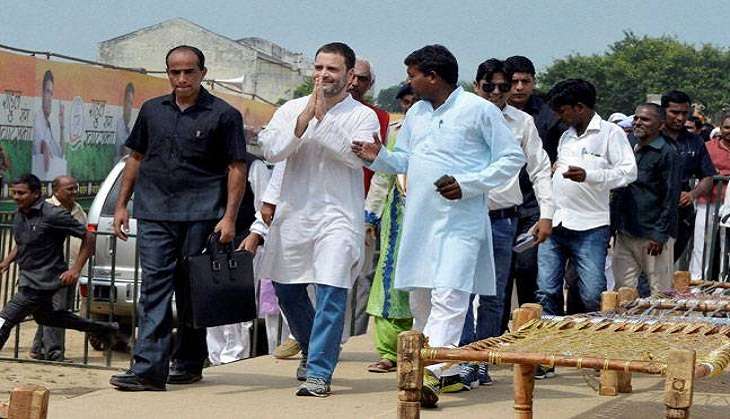 Making a strong pitch for farm loan waiver on the second day of his yatra in poll-bound Uttar Pradesh today, Congress vice president Rahul Gandhi said the Modi government should run a government for the poor and look into the plight of the farmers who are "crying".
He claimed that Prime Minister Narendra Modi waived loans to the tune of Rs 1.10 lakh crore of "big industrialists and rich people" in the last two years while he forgot the plight of farmers who are carrying the burden of the entire country.
Also read: UP Polls: What is taking the Congress so long to launch Priyanka Gandhi in the state?
"In the past two years, Narendra Modi has waived loans of Rs 1.10 lakh crore. Not of small farmers but of big industrialists and rich people. If Modiji wants to waive loans of the rich, it is his decision. He is the Prime Minister and he can do so. We are not against it.
"We have only one demand. You should not run a 'suit-boot sarkar'. You should run a government for the poor. If you want to waive loans of big industrialists, then do it for farmers too. Don't forget the farmer, because the farmer is crying, big industrialists are not," he said.
Also read: This is why '27 saal UP Behaal' yatra failed to do any good for Congress in Kanpur
He said there are reports from various states that farmers are committing suicide due to scarcity of water, issues of fertiliser, loans, MSP and power. "In our 'khaat sabha', the farmers told us that the government should take the burden on their shoulders. There is no burden on big industrialists, but the farmer is carrying the burden of the entire country on his shoulders. That is why we started this yatra," he said.
Seeking to strengthen the party's base in Uttar Pradesh ahead of next year's Assembly election, Gandhi kicked off a month-long 'mahayatra' during which he would traverse 2,500 km across the state to hear out the farmers and give a voice to them in highlighting their plight. He said the Congress was not in power at the Centre and in the state, thus it could not help the farmers directly. "But we will raise their voice through agitation," he said.
Also read:Here's why reviving the Congress in UP is an uphill task for Prashant Kishor
"Our only target is to put pressure on the Prime Minister and the NDA/BJP government and we want loans to be waived, just as we waived Rs 70,000 crore (during our tenure). We will put pressure on them. We will travel from here to Delhi and talk to farmers, listen to their problems and understand them and take them to Modiji," he said.
The Congress has been out of power for the last 27 years in Uttar Pradesh, where Assembly polls are due early next year.
-PTI
Also read: Congress strategist Prashant Kishor faces heat after secret 'Brahmin meeting' in Uttar Pradesh