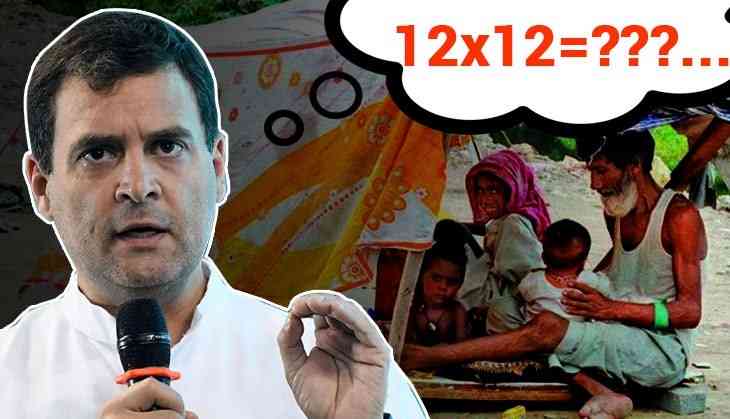 Ahead of 2019 Lok Sabha Elections, Congress chief Rahul Gandhi made a big announcement for the poorest family of India, during his press conference in Delhi on 25th March. Congress chief announced the party's poll promise and unveiled the minimum income support scheme.
While addressing the media in Delhi after the Congress Working Committee, Gandhi said that the party will give Rs 72,000 annual income support for 20 per cent of the poorest families if they voted to power.
'20 per cent of the poorest families will be given an income support of Rs 72,000 every year,' Rahul Gandhi said. He also added that the amount will be directly transferred to the bank accounts of the poor.
With this income support scheme, Gandhi-led party is planning to give the benefits to the five crore families and 25 crore members of these families.
Rahul Gandhi: 5 crore families and 25 crore people will directly benefit from this scheme. All calculations have been done. There is no such scheme anywhere else in the world https://t.co/bYmKhUvqZO

— ANI (@ANI) March 25, 2019
Instead of getting appreciated for his latest announcement, social media trolled him brutally for his Mathematical calculations and called him duffer.
Check out some reactions:
And to this @RahulGandhi the genius said 12k per month but 72k per year,now we know from where @priyankac19 has learnt maths#Pappu

— ડૉ.નિસર્ગ ડી.શાહ (@shahnisarg71) March 25, 2019
The historic announcement "Garibi Hatao" was made by Indira Gandhi Ji in 197. After 48 years Rahul Gandhi Ji is making another historic announcement to elevate people from poverty. 😂😂

— Chowkidar Osheen🇮🇳 (@Megha94507473) March 25, 2019
Duffers. From where will the money come from ? What is the total tax received per year ? This is the biggest lie after farmers loan waive in MP. Farmers are committing suicide there and naxals are back in Chatisgarh. Rajasthan people dying of flu

— surgical Goddes🇮🇳 (@chittisarma18) March 25, 2019
5 crore people X RS 72000 = Rs 3.60 lakh crore
25 crore people X RS 72000 = RS 18 lakh crore. In either way who will pay for such amount . Ya tax badao ge . Ismai aap logo ka kitna hoga. Ye admin Desh luta dega . Janta se neevedan hai kamse Kam Cong Ko to mat lana

— Chowkidar Pankaj bhardwaj 🇮🇳🚩 (@Pankajbh29) March 25, 2019
Does NCERT still have chapters on Gobar Gas plant or are these millennial kids from a generation which thinks flour comes from Rahul Gandhi's 'factories' in Vadra malls. 😂 https://t.co/QHTf02jMjB

— Shubhrastha (@Shubhrastha) March 25, 2019
March 25, 2019
और वह कैलकुलेशन प्रियंका चतुर्वेदी जी ने की होगी

— चौकीदार OnlyTushar® (@onlytg_gt) March 25, 2019
RaGa's calculation pic.twitter.com/H47nun1eFW

— Abhishek Kumar (@abhishek94nov) March 25, 2019
What do you think about this latest scheme announced by Rahul Gandhi? Share your comments on our Facebook page...
Watch Video:
Also read: Rahul Gandhi announces 'Minimum Income Support,' 20% poorest to get Rs 72,000 per year