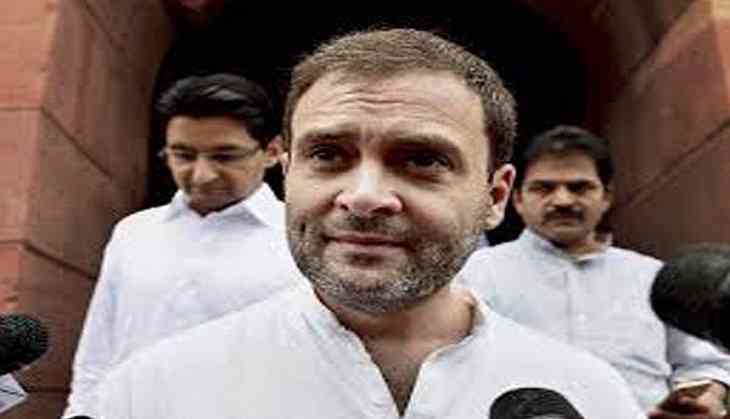 The Bharatiya Janata Party (BJP) on Tuesday took a dig at Rahul Gandhi after he announced his vacation in Italy and said that the Congress vice-president does not take politics seriously.
BJP leader Kailash Vijayvargiya said that Rahul does not care about the farmers and that much should not be expected from him.
"We also used to go to our grandmother's house in the summer holidays and so Rahul Gandhi is also visiting. It hardly matters. Do not expect farmers' concern from Rahul Gandhi. He does politics like picnic. Not much should be expected from him," said Vijayvargiya.
Echoing similar sentiments, BJP spokesperson G.V.L Narasimha Rao mocked Rahul and said that the Congress vice president visits India in between his foreign visits.
"Rahul Gandhi visits India in between his foreign vacations. He is a front ranking leader of the Congress party and the veil of secrecy about his foreign visits make him suspect and his party in the eyes of the people," said Rao.
However the Congress Party slammed the BJP for creating an unwarranted hype around Gandhi's visit.
"The people who are trying to misinterpret his visit we condemn those people. Meeting his maternal grandmother and asking for her health is a part of our culture & tradition. Some people who go and meet their mothers take cameras with them. There is an ongoing farmers' agitation that Rahul is leading and wherever he is he will lead it," Congress spokesperson Randeep Surjewala told ANI.
"He will make the farmers' agitation more intense. We totally reject the BJP'S conspiracy. Those who does not know the importance of family only those will condemn this. The whole nation & every congress worker will make the voice of the farmers to expose the BJP of its anti farmers mindset," he added.
The Congress vice president, earlier in the day, said he would be travelling to Italy ahead the monsoon session of the Parliament to visit his grandmother.
Taking to Twitter, Gandhi said, "Will be travelling to meet my grandmother & family for a few days. Looking forward to spending some time with them."
He had last travelled abroad in March, when his mother and Congress president Sonia Gandhi was undergoing medical treatment abroad for an undisclosed illness.
Prior to that, he had travelled abroad at the end of December 2016 and the beginning of January.
-ANI