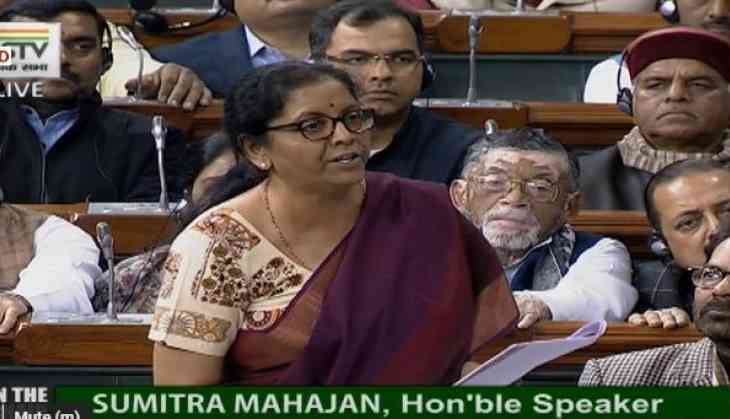 As the debate over Rafale controversy continues in Parliament, Defence Minister Nirmala Sitharaman has presented evidence of contracts with HAL worth Rs 26,570 crore.
Earlier, Congress president Rahul Gandhi had demanded the resignation of Defence Minister Nirmala Sitharaman for spreading lies over the Rs 1 lakh crore contracts with the HAL and said that the company is currently debt-ridden and is forced to pay salary after taking loans worth Rs 1000 crore.
Gandhi tweeted "When you tell one lie, you need to keep spinning out more lies, to cover up the first one. In her eagerness to defend the PM's Rafale lie, the RM (Raksha Mantri) lied to Parliament. Tomorrow, RM must place before Parliament documents showing 1 Lakh crore of Govt orders to HAL. Or resign."
Defence Minister in Lok Sabha: I have received confirmation from HAL that contracts during 2014-18 worth Rs 26,570.80 crore have already been signed with HAL. Orders worth Rs 73,000 Cr approx are in the pipeline pic.twitter.com/UeWFQ2Gc37

— ANI (@ANI) January 7, 2019
In response to this, Sitharaman had tweeted with evidence of the HAL contracts and said, "It is a shame that the President of @INCindia is spreading lies and misleading the country. HaL has signed contracts worth Rs 26,570 crore (between 2014-2018) (tenure of the NDA government) and contracts worth rs 73,000 crore are in the pipeline. Will @rahulgandhi apologise to the country from the floor of the house and resign."
The office of the Defence Minister had tweeted saying, "Dear Shri @RahulGandhi , looks like you really need to start from ABCs. Someone like you who is hellbent on misleading the public will quote an article even before reading it."
Now, the Parliament is debating over the Rafale deal issue and the conclusion doesn't seems to be near.
Also read: Supreme Court issues notice to Anil Ambani-led RCom after Ericsson demanded his arrest in Rs 550 crore
When you tell one lie, you need to keep spinning out more lies, to cover up the first one.

In her eagerness to defend the PM's Rafale lie, the RM lied to Parliament.

Tomorrow, RM must place before Parliament documents showing 1 Lakh crore of Govt orders to HAL.

Or resign. pic.twitter.com/dYafyklH9o

— Rahul Gandhi (@RahulGandhi) January 6, 2019