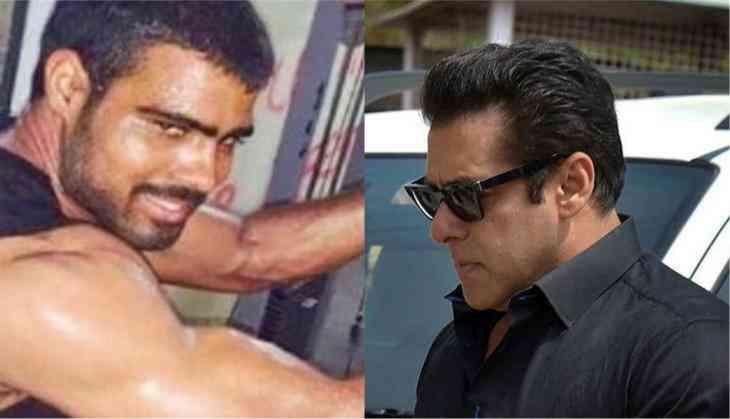 Despite the arrest of wanted Bishnoi group's gangster Sampat Nehra, Race 3 actor Salman Khan's life threat remains intact. According to media reports, Haryana's Special Task Force has alerted Mumbai Police that some of Sampat's associates are still present in Mumbai. Meanwhile, Mumbai Police has increased security outside Salman's house, galaxy apartment in Mumbai's Bandra west.
If we believe the reports, the Mumbai Police has tightened the security arrangements outside Salman's residence. A senior police officer said- "There will be no criminal activity on the part of the Rajasthan's Bishnoi gang, to ensure that the police will be guarded outside Salman's house all the time." However, Salman has not been given the personal bodyguards.
Mumbai Police is analyzing the threat received from the gangster. In April this year, when Salman had gone to Jodhpur for a muscular case in the Blackbuck poaching case, then the infamous Gangster Lawrence Bishnoi of Rajasthan-Haryana threatened to kill him.
Sampath is on 7 days remand:
- On Monday, Haryana STF introduced Sampat in a court of Panchkula. Where he was sent on 7-day police remand. Earlier, he was brought to the court in a private car under tight security under the leadership of DSP Rahul Dev.
- Many of Sampat's colleagues are still on the radars of the police. The STF expects a large amount of weapons can be recovered from the property. Actually, many photographs have been uploaded with the weapons from time to time on social media
Who is Sampat Nehra?
- Sampath is the son of retired assistant sub-inspector Ramchandar from Chandigarh Police. According to the information, 28-year-old Sampat National Level Deacethalon (Hurdle Race) Silver Medalist has also been there.
- He has studied with DAV College. Where he became the President of SOPU (Student Organization of Punjab University). Sampat was also quite active in the subject Politics.
- During his studies, he came in contact with the infamous gangster Lawrence Vishnoi and walked on the path of crime. Sampath is said to be the right hand of gangster Lawrence. He is the Sharpshooter of Lawrence gang.
- In January 2016 Sampat was arrested for the first time in a case of robbery of a car at gunpoint. Subsequently, on June 2017, the fellow prisoner escaped after throwing a glass of pepper powder in the eyes of the policeman.
Also read: Rahul Gandhi pleads 'not guilty' in defamation suit filed by RSS leader in Mumbai's Bhiwandi court