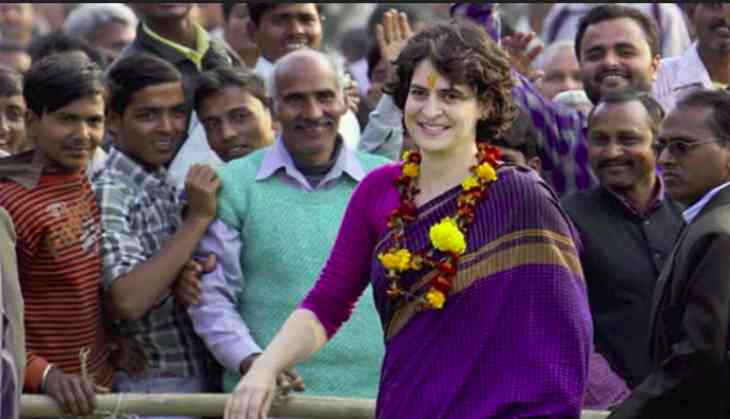 As Congress is ready to floor the red carpet for the most awaited political debut, Priyanka Gandhi Vadra will be hitting the roads of Eastern Uttar Pradesh to launch the road show along with brother Rahul Gandhi.
All eyes are on the talkings of the Gandhi families another scion, who is ready to enter the politics, in the times when her husband Robert Vadra is being investigated by the Enforcement Directorate.
Priyanka, who is being considered as a masterstroke for the Congress party, has already brought limelight in the grand old party's base camp with the media by side and a national attention, PM Modi might be thinking about another trump card ahead of the Lok Sabha polls.
Banner seen in Lucknow ahead of Congress General Secretary for UP East Priyanka Gandhi Vadra, UP West Jyotiraditya Scindia and party President Rahul Gandhi's visit to the city today. pic.twitter.com/i7Fojhb49m

— ANI UP (@ANINewsUP) February 11, 2019
It will be significant for the Congress to rejuvenate its core voters in Uttar Pradesh, where they have not been in power since last 29 years as the last time the party helmed the state was in 1984, during Rajiv Gandhi's era.
The poster girl of Congress party holds the key to Eastern UP for the grand old party which has lost all its seats, except Amethi and Raebareli in 2014, and the Congress received a mere 9% vote share while BJP got 41%.
In the run up to the polls, Rahul Gandhi has clearly stated that Congress party would be playing on the front and now, with Jyotiraditya Scindia in Western UP and Priyanka in Eastern UP can benefit the party. But, the pertinent question remains whether Priyanka Gandhi with her all bonanza image can covert the anti-incumbency into votes or will merely increase the vote share of Congress?
Also read: Priyanka in Lucknow: 'I am coming' Priyanka Gandhi Vadra's message ahead of mega roadshow in Uttar