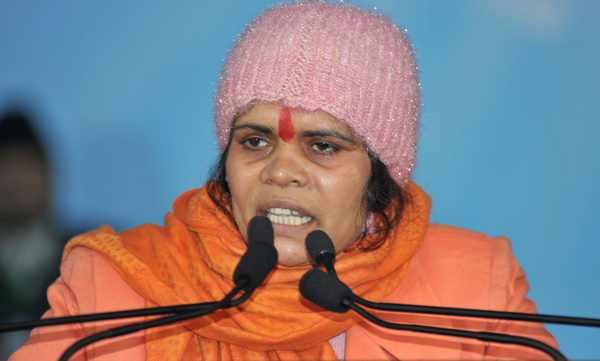 Opposition Members of Parliament moved a privilege motion against Vishwa Hindu Parishad (VHP) leader Sadhvi Prachi in the Rajya Sabha, today.
Prachi had triggered a controversy on 6 August by alleging there are "one or two terrorists" in Parliament. The remarks appeared to be targeting MPs who were against the hanging of 1993 Mumbai blasts convict Yakub Memon.
What did she say?
Talking to reporters in Roorkee, the VHP leader had also demanded that the government hand over the captured terrorist in Udhampur to Hindu organisations who will teach him "a good lesson".
"This is a great misfortune of the country that there are one or two terrorists sitting in Parliament as they are the ones disobeying the judgment of a court which had proved that Yakub was a terrorist. After the crime of terror has been proven in a court of law, those who were supporting a terrorist are also terrorists," the controversial leader had said.
Prachi-speak
The VHP leader is known for controversial statements.
Boycott films by Khans: In March, Prachi had said that Hindus should boycott movies by the three Khans of Bollywood because they promote 'love jihad'.
Rahul Gandhi should marry an Indian girl: She even offered matrimonial advice to Congress vice president Rahul Gandhi, saying he should marry an Indian girl.
Ghar wapsi for 15 crore converts: In February, Prachi said that the 'Ghar Wapsi' programme will continue till the 15 crore people, who, she claimed, had left the Hindu fold after Independence, are "reconverted to Hinduism".
Hindus should have four children: "Earlier we used to say, hum do hamare do. But now we have started saying that sher ka bachcha ek hi achha (for a lion, one offspring is enough). This is wrong...If there is one child, where will you send him? To protect the border... or make him a scientist or he takes care of business... So we need four children. One can go to protect the borders, one can serve society, give one to the saints and one to the VHP to serve the nation and protect the culture. This is very important," she had said.
Who is Sadhvi Prachi?
VHP leader Sadhvi Prachi contested the 2012 assembly elections on a BJP ticket from the Purkazi constituency of Uttar Pradesh. She had been among people arrested for inciting riots through provocative speeches at Muzaffarnagar in 2013, and was later granted bail.