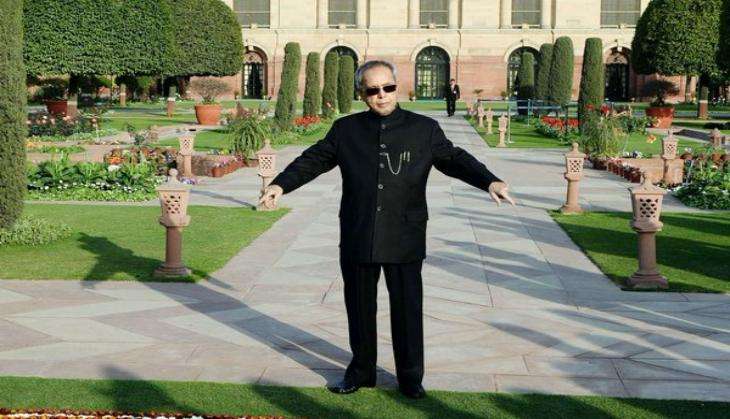 President Pranab Mukherjee will open the annual 'Udyanotsav' of the Rashtrapati Bhavan on 4 February.
The highlights of this year's 'Udyanotsav' include two new varieties of roses named after the President Pranab Mukherjee and his late wife Suvra Mukherjee; Vertical Gardens and Air Purifying Plants which absorb toxins from polluted air.
The two varieties of roses named 'President Pranab' and 'Suvra Mukherjee' were developed by Pranabir Kumar Maity and Ashok Kumar Maity of Pushpanjali Rose Nursery at Jakpur, West Bengal. The Indian Rose Federation issued a certificate after trials in January 2017 and the roses were subsequently planted in the Mughal Gardens.
About 14,000 Tulip bulbs in seven different colors such as red, orange, pink, and purple have been planted in the Mughal Gardens. Several beds of roses, including both new and heritage varieties are the main attraction of the Long garden. Flower Carpets in various designs will be on display in the Central Lawns of the Rashtrapati Bhavan.
The dominant color scheme of this year's ornamental flowers is various shades of yellow, red and orange. A small cactus corner, as in previous years, forms part of the display. Exhibition Stalls will be set up near the Spiritual Garden displaying produce of fresh vegetables and fruits grown in the President's Estate Organic Farm. The Spiritual Garden will also showcase a Lotus pond with a cascading waterfall.
The Mughal Gardens will remain open for general public from 5 February to 12 March, 2017 (except on Mondays which are maintenance days) between 09:30 A.M. to 04:00 P.M. Members of the public will also be able to visit the Spiritual Garden, Herbal Garden, Bonsai Garden and Musical Garden.
The Mughal Gardens will be open exclusively on March 10, 2017 to special category of visitors viz farmers, differently abled persons, defence/para-military forces and Delhi Police personnel from 09:30 A.M. to 04:00 P.M. The Tactile Garden will be open for visually impaired people on 10 March, 2017 from 11:00 A.M. to 04:00 P.M.
-ANI