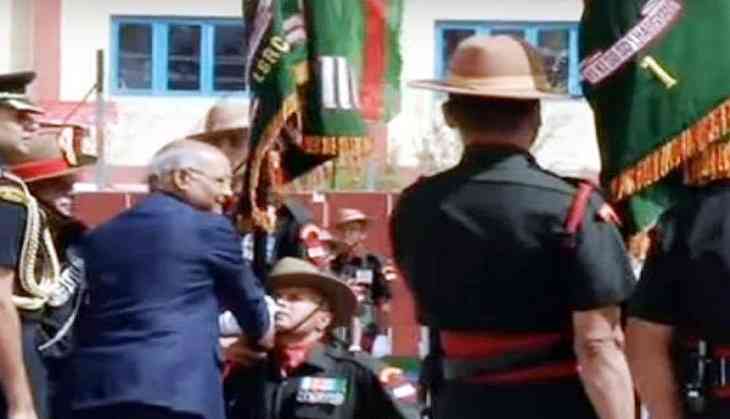 President Ram Nath Kovind presented "The President's Colours" to Ladakh Scouts Regimental Centre and all five battalions of the regiment here on Monday.
A ceremonial parade was conducted as per the highest military traditions of the Indian Army which was attended by a spectrum of civil and military dignitaries, including Jammu and Kashmir Governor N. N. Vohra and Chief Minister Mehbooba Mufti.
Chief of The Army Staff General Bipin Rawat, General Officer Commanding-in-Chief Northern Command, Lt. Gen. Devraj Anbu, General Officer Commanding 14 Corps, Lt. Gen. P. S. Pannu, besides a large number of serving and retired personnel witnessed the grand ceremony.
Raised as Nubra Guards in 1948, amalgamated into the Indian Army as regular troops in 1963 and restructured as an infantry regiment in the year 2000 post Operation VIJAY, the Ladakh Scouts have carved a niche for themselves in the annals of history of the Indian Army.
President Kovind complimented the Ladakh Scouts personnel for their outstanding performance in all spheres and their exceptional valour and sacrifice while upholding the sovereignty of the nation in the Ladakh region, especially in the Siachen Glacier. He appreciated the exceptional gallantry and indomitable courage displayed by the brave NUNNUS during all major wars and operations since independence which have earned them 605 gallantry and distinguished service awards besides,Battle Honours of Batalik and Turtuk, Theatre Honour Kargil and the coveted Chief of the Army Staff Banner for Valour and Sacrifice, making them one of the most decorated regiments of the Indian Army.
President Kovind also released a documentary movie on Col. Sonam Wangchuk (MVC) and also interacted with veterans and Veer Naris, besides the gallantry awardees and complimented them.
He exhorted all personnel to continue to striving hard in pursuit of excellence in all spheres and take a solemn vow to defend the sovereignty of the nation against all odds in the true spirit signified by the colours presented to the regiment.
-ANI