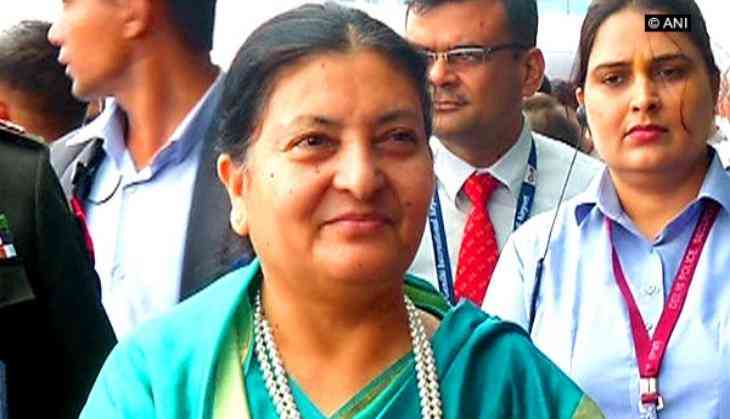 President Bhandari in Delhi, but Nepal 'eyeing China' of concern (ANI)
Nepalese President Bidhya Devi Bhandari may have commenced her five-day India visit, but her country's frequent hobnobbing with China has dominated headlines and attracted New Delhi's concerned attention.
In a first, Nepal and China have started a 10-day joint military exercise 'Sagarmatha Friendship 2017'. This newly found military bonding will last until April 25. Indian diplomatic and security experts have reasons to be wary of the Dragon's interest in Nepal, which has remained more or less dependent on India for most of its needs.
This issue is likely to figure in delegation-level talks today. The Nepal Prime Minister Pushpa Kamal Dahal, a.ka. Prachanda visited New Delhi within six weeks after assuming power and signed many treaties with India. He also visited China but no treaties were signed between two countries.
Chinese Premier Xi Jinping's Nepal visit was scheduled in October 2016 during former Nepal Prime Minister Khadga Prasad Sharma Oli's regime but was called-off owing to the changed political scenario in Nepal.
Relations between India and Nepal became strained when Oli started looking towards China.
During his tenure, Oli supported China's policy of One Belt and One Road' (OBOR) and also signed a treaty, but Prachanda has kept a mum over it. Since India was not happy with Nepal's association in OBOR projects, so China holds India responsible for Prachanda's 'cold response' to OBOR.
As a matter of fact, China sees Prachanda with suspicion over the former's proximity to India. This was evident through an opinionated piece published in Chinese Communist Party's mouthpiece 'Global Times'. The newspaper advised Prachanda to tender an explanation on his growing proximity with India.
Prachanda organized Indian President Pranab Mukherjee's Nepal visit in November 2016 to repair the damage. Pranab, as a foreign minister in 2005-06, had played an important role in bringing Nepalese Maoists into the mainstream.
However, Nepal-China joint military exercise has many dimensions, and India should be wary of them.
In the past, Nepal has been conducting a joint military exercise with India and United States of America (USA). China is a new entrant in Nepal's military diplomacy.
For understanding China's real interest in Nepal, one needs to understand the landlocked Nepal's politics and demography.
Nepal has witnessed political turmoil since 2001 with the infamous Royal massacre. Though there is a democratical government in Nepal, but its ideology is Leftist, akin to the Chinese political ideology and opposite to the Right wing ideology of Narendra Modi government.
Nepal is surrounded by China to the north and India to the south, east and west. This makes its border porous and most favored destination for terrorists.
Though the aim of joint Nepal-China military exercise is to combat terrorism, but China is not likely to take note of its friend Pakistan's nurturing of terror infrastructure in Nepal.
A Wikileaks report revealed in 2011 that ISI had made Nepal a hub of anti-India terror activities. Pakistan founded Jammu and Kashmir Islamic Front (JKIF), and Kathmandu was made its base. Most wanted underworld don Dawood Ibrahim has a very strong presence in Nepal.
JKIF, says the Wikileaks cable dated July 8, 1997, was controlled from Pakistan by ISI and Tiger Memon, who is the prime accused in 1993 Mumbai blast case and a close associate of Dawood.
Bidhya Devi was scheduled to visit India in May 2016, but it was postponed due to political instability in Nepal created by Madhesi movement. Since many Madhesis are of Indian origin, so Nepal suspected that India was fomenting trouble in Himalayan Country. This thinking strained bilateral relations. When the trade was hit during Madhesi movement, then Nepalese Prime Minister Oli joined hands with China and started importing goods, including petroleum products, from Beijing. India was not happy with its age-old friend's proximity with its age-old foe. After the exit of Oli, relations between India and Nepal are becoming normal.
However, with China's military diplomacy in Nepal, it will be interesting to watch how long India and Nepal relations will remain 'friendly'.
-ANI