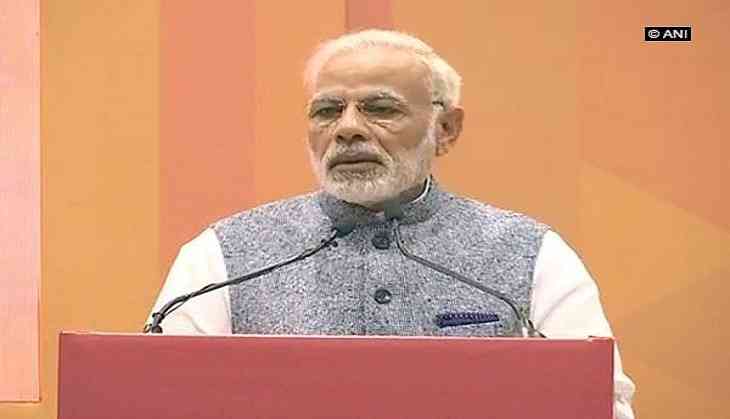 Prime Minister Narendra Modi on Saturday took a dig at the Congress party for their remark on 'ease of doing business', saying the party failed to understand what coming down to 100 from 142 in the World Bank's list means.
While speaking at 'India's Business Reforms' session in the national capital, the Prime Minister said if the United Progressive Alliance (UPA) government would have done some work when they were in power, then India would have achieved this milestone long back.
"There are some people, who do not understand what improving from 142 to 100 means. They are those people who have been a part of the World Bank. They are still raising question on its ranking," Prime Minister Modi said without directly referring to the Congress party.
"They didn't do anything, and now the one who is doing something is being questioned. Coincidently, the World Bank started this ease of doing business ranking process in 2004. The year is very crucial and everyone knows who was there in power till 2014," he added.
He further said, rather than criticising this achievement, the parties should come together with a new energy and move forward to make a 'New India'.
The Prime Minister's remark came days after the Congress party dismissed the World Bank report on India's improved 'ease of doing business' and mocked the National Democratic Alliance (NDA) government over the same.
While addressing a rally in Gujarat, Congress vice president Rahul Gandhi on November 1 said there is nothing like 'ease of doing business in India' as Goods and Service Tax (GST) and demonetisation have ruined everything. He said such improved ranking is good, only for making Finance Minister Arun Jaitley happy.
Soon after this, Congress spokesperson Randeep Singh Surjewala averred that 'ease of doing business' has become 'cease of doing business' for micro, small and medium enterprises under the ruling government.
On the same day, Arun Jaitely took to his Twitter handle to slam Rahul for his remark and said that the country has moved from "ease of doing corruption" during United Progressive Alliance (UPA) governments supervision to "ease of doing business."
-ANI