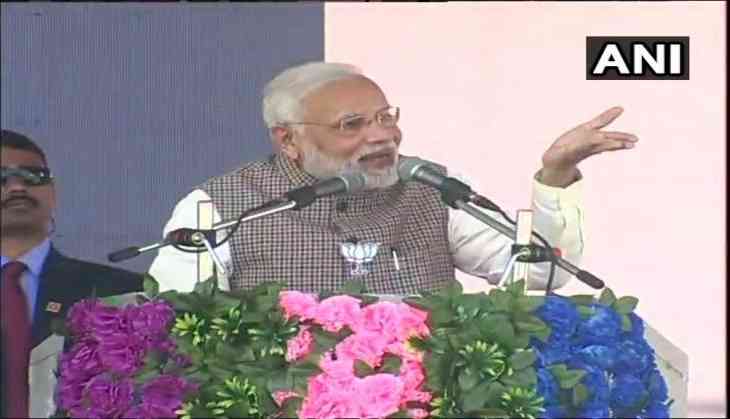 Prime Minister Narendra Modi has reached political hub Uttar Pradesh and has upped the attack on Sonia Gandhi and Congress, while speaking in Raebareli.
After BJP lost in the state assembly elections with a 5-0, and this is the first time since then that PM Narendra Modi is addressing a rally, after the verdict of Rafale fighter jets came in favor of the BJP.
In the 80 Lok Sabha seats of UP, BJP won 70 of them in 2014 but the road to 2019 will be a tough ride as after Congress claiming the Hindi heartland, the spill ovr effect will be seen in the elections to follow.
Now, PM Modi while speaking on the turf of Sonia Gandhi in Raebareli has said, "I want to know from the Congress -- is it agitated today and telling lie after lie because the BJP government's defence deals do not have any Quattrocchi "mama", Christian Michel uncle?"
PM Narendra Modi in Raebareli: Congress' history in defence deals is that of uncle Quattrocchi. Helicopter scam accused #ChristianMichel was brought to the country a few days ago. Everyone saw how Congress sent their lawyer to save him. pic.twitter.com/iH884ga8Tf

— ANI (@ANI) December 16, 2018
Now, BJP will be looking to restrategize its policies and campaigning as less than 100 days are left for the General elections and a rethinking is definitely required in the election machine of the BJP.
Star campaigner and UP CM Yogi Adityanath's role has taken a beating as he did more rallies than PM Modi in MP, Rajasthan and Chhattisgarh but has resulted in a disaster for the party.
Further, PM Modi said at the rally that "When the previous government decided to construct rail factory here, it was decided that 5,000 workers will be hired. But half of these posts were approved... In 2014, not a single new appointment was made at the factory, but today, nearly 2,000 workers have been appointed by our government."
Also read: 2012 Delhi gang-rape case: After 6-years of Nirbhaya case, mother Asha Devi says convicts still alive, it's law