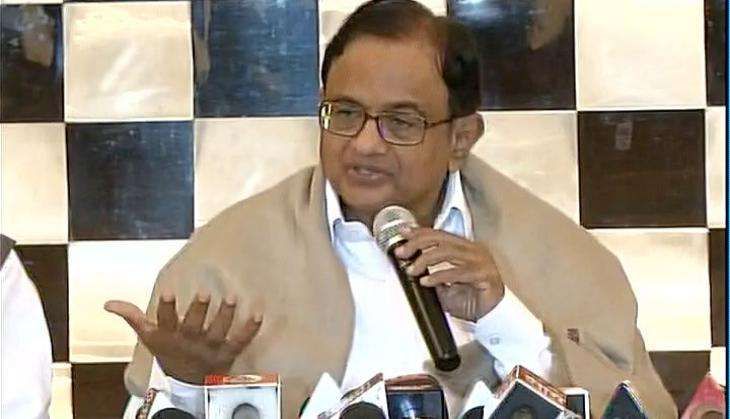 Insisting that oppositions concerns on demonetisation have been found "correct", former finance minister P Chidambaram, on 30 December, said Prime Minister Narendra Modi should now make a categorical announcement of an end to all restrictions on cash withdrawals.
"When the Prime Minister addresses the nation tomorrow or on any other day, the people expect that he will make a categorical announcement that all restrictions on money have been ended", Chidambaram told reporters at AICC headquarters.
The senior Congress leader said that the woes of demonetisation should come to an end by this evening as the Prime Minister had asked for time till 30 December.
Noting that the Prime Minister had recently said at a rally that "through the note ban, in one stroke, we destroyed the world of terrorism, drug mafia, human trafficking and underworld," he said that it was therefore, fair to expect that these objectives would be achieved by the end of today.
"It is fair to expect that beginning Monday, January 2, 2017, all restrictions on money imposed on November 8, 2016 will be removed and the people will be able to withdraw the money in their bank accounts.
"It is fair to expect that there will be no queues outside bank branches and ATMs. It is fair to expect that all ATMs will be open round the clock and fully stocked with currency notes," he said.
Chidambaram said that the "only person" who can assure the people on these matters is the Prime Minister because the government has "dubbed all of us in the Opposition as supporters of black money hoarders and tax evaders."
On governments claim that people are happy and there have been no incidents of rioting, he said, "people are patient. But please dont mistake patient people for happy people".
Seeking to debunk governments claims on the benefits of demonetisation, he said "Events of the last 50 days have proved us correct. Hoards of black money in new Rs 2,000 notes have been found."
He further said that bribes have been given and taken in new Rs 2,000 notes and there is "no guarantee" that black money will not be demanded or generated in future or that bribes will not be given or taken in future in the new currency.
Dubbing the way the demonetisation was announced and implemented as a "single biggest case of total mismanagement," he regretted the most momentous decision has been taken "without consulting key officials."
Making a strong pitch for compensating people for the hardships they faced, he lamented that the government has "not uttered a word" about compensating the people for the economic losses heaped upon them by demonetisation.
He also demanded that the Agenda note and the minutes of the meeting of the Board of Directors of RBI held on November 8, 2016, along with the Note for Cabinet on demonetisation placed before the Cabinet on November 8, 2016, should be made public.
--PTI