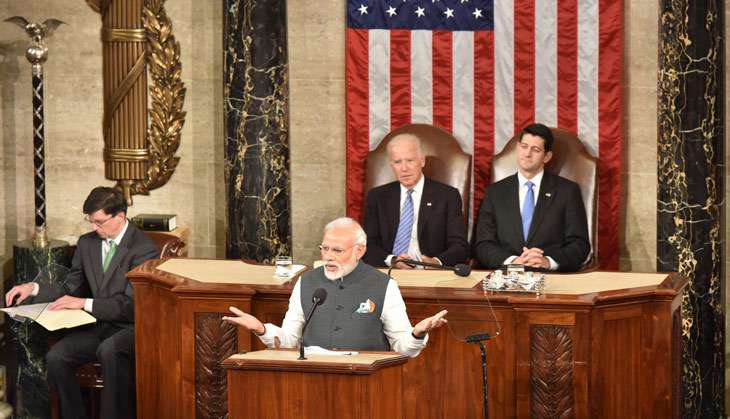 In what is bound to go down as one of Prime Minister Narendra Modi's best speeches, he addressed the US Congress on 8 June. Speaking at Capitol Hill, PM Modi emphasised on the delegitimisation of terrorism and security ties between India and US. He stressed that India considers the US to be an indispensable partner in every sector.
He quoted Abraham Lincoln, "was conceived in liberty and dedicated to the proposition that all men are created equal," in the context that the US manifest great spirits. He said that the power of the US democracy has encouraged and empowered other democracies the world over.
Modi said that Indo-US friendship dates back to when former PM Atal Bihari Vajpayee stood at Capitol Hill and called that both nations "step out of the shadow of hesitation of the past". Today, our relationship has overcome the "hesitations of history," PM Modi said.
His speech received a standing ovation, with US lawmakers interrupting him over eight times to cheer him on.
Here is a quick look at some of PM Modi's best speeches on foreign soil:
British Parliament (12 November 2015)
PM Modi scripted history by becoming the first Indian head of state to address the British Parliament. He received a standing ovation at the UK Parliament's Royal Gallery.
"The British are wise enough to recognise his greatness; Indians are generous enough to share him," he said, when asked to share his thoughts about the Mahatma Gandhi statue, which stands tall at the entry of the British Parliament.
During his speech, he raised concerns over radicalisation and terrorism. He also pushed for the adoption of the Convention on International Terrorism in the UN.
In a lighter vein, he said "There are many things on which it is hard to tell anymore if they are British or Indian: The Jaguar or the Scotland Yard, for example. And, our strongest debates are whether the Lord's pitch swings unfairly or the wicket at Eden Gardens cracks too early."
Making a reference to the great football star David Beckham, PM Modi said that young minds in India still want to "Bend it like Beckham".
Talking about the transformation of the interface between the Government and people, he said that Digital India is paving the way for transformation. Quoting poet TS Eliot, PM Modi said, "we won't let the shadow fall between the idea and reality. If you visit India, you will experience the wind of change."
Abu Dhabi cricket stadium, UAE (18 August 2015)
Prime Minister Narendra Modi's maiden visit to the United Arab Emirates marked the first visit to the UAE by an Indian PM in 34 years.
He addressed a huge crowd of 50,000 people, who chanted "Modi, Modi" - reminiscent of the reception he received at Madison Garden.
In his address, he touched upon a number of issues - including India's renewed relations with UAE, concerns over terrorism and new initiatives for NRIs, among others.
Taking a dig at Pakistan, PM Modi said, "Itna hi nahi, samajhne wale samajh jaayenge, akalmand ko ishaara kaafi hai (those who need to understand this will understand.) His 70-minute-long consisted of improved relations with India's neighbours - Nepal, Bangladesh, Sri Lanka, Malvdives.
Afghanistan Parliament (25 December 2015)
Prime Minister Narendra Modi inaugurated the new Parliament building of Afghanistan, which India had helped to build - a move that was viewed as Indian support to Afghan democracy. The new building also has a wing named after former PM Atal Bihari Vajpayee.
PM Modi was a part of the first Parliament session in the building. In his address to the Parliament, he quoted Jalaluddin Rumi, "Raise your words, not your voice. It is rain that gives flowers, not thunder".
The main peg of his speech was the friendship and cultural bond between India and Afghanistan.
In his address to the joint session of both houses of the Afghan Parliament, he said that "nurseries and sanctuaries of terrorism" must be shut. "Terror and violence cannot be the instrument to shape Afghanistan's future or dictate the choices Afghans take," PM Modi said.
United Nations General Assembly (26 September 2015)
In his address at the UN Sustainable Development Summit, PM Modi began by quoting Mahatma Gandhi. "One must care about the world one will not see," he said.
At the UNGA, PM Modi pitched for climate justice and a war on poverty. He reiterating the message of "common but differentiated responsibilities" on climate action with the slogan of "climate justice" and spoke about about Blue Revolution, which included the prosperity, sustainable use of marine wealth and blue skies.
In a 13-minute speech, he invoked Deendayal Upadhyaya in his centenary year to draw similarities between the BJP icon's concept of "antyodaya" - serving the last man - and the 2030 goals, and peppered his speeches with several Sanskrit phrases, including "Vasudhaiva kutumbakam" (the world is one family).
Climate Change Conference - COP21, Paris (1 December 2015)
During the landmark climate summit in Paris, PM Modi began by expressing India's support to Paris, which was reeling from a terror attack.
Speaking about the issue at hand, climate change, PM Modi said that "Developed countries must fulfill their responsibility to make clean energy available, affordable and accessible to all in the developing world. This is in our collective interest," he said.
He cautioned "against any unilateral steps that will lead to an economic barrier in the battle against climate change." He also shared plans to help India reduce pollution levels and meet the 2030 goals.
He ended his speech by saying, "The presence of 196 countries tells us that we have a chance to unite behind a common purpose. We will succeed if we have the wisdom and courage to craft a genuinely collective partnership that balances responsibilities and capabilities with aspirations and needs."