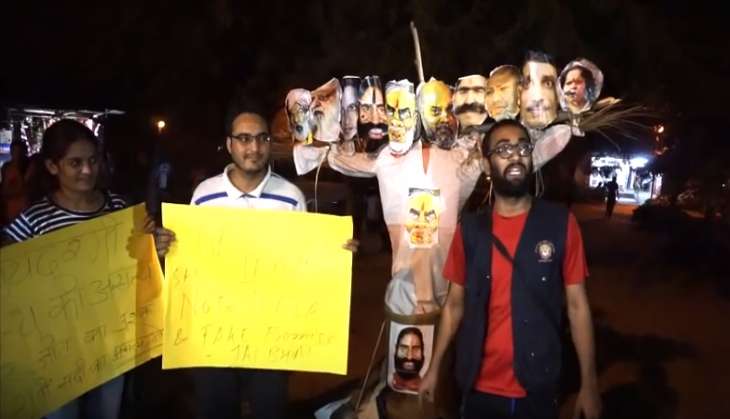 The Bharatiya Janata Party (BJP) on 13 October slammed Congress Vice President Rahul Gandhi, saying that he "epitomises the moral degradation" of the party. The attack comes in the wake of the National Students Union of India (NSUI) burning Prime Minister Narendra Modi's effigy in the Jawaharlal Nehru University (JNU) campus on Vijaya Dashami, 11 October.
The NSUI claimed that the effigy-burning, held at the varsity's Saraswati dhaba, was symbolic of their dissatisfaction with the ruling government. NSUI activist member Sunny Diman said that PM Modi and the RSS were "symbols of untruth" and that the JNU campus was under "serious threat".
Reacting to the incident, BJP spokesperson GVL Narsimha Rao said that Rahul Gandhi's move to extend his support to JNU students raising objectionable slogans displayed the "crass culture" of the Congress party.
"This incident coupled with 'Bharat ki Barbadi' slogan raised at JNU and the support extended by Rahul Gandhi then, only shows the Congress party's crass culture. The Congress, in its criticism of BJP and PM Modi has resorted to even anti-national stands on matters concerning national security and terrorism," Rao said.
Adding that Rahul Gandhi epitomises the moral degradation of the Congress party, Rao said, "The young brigade of Congress seems to be representing the moral degradation that Rahul Gandhi has ushered in the Congress party."
When asked if he thought whether the Congress leader was involved in the incident, the BJP spokesperson said: "Obviously this has the support of the Congress party otherwise they ought to condemn it. If they are not standing with it they must condemn it. They cannot distance themselves or keep silent about it".
However, the BJP leader asserted that he did not call for any particular action against those involved in the burning of PM Modi's effigy and that it was up to the university to decide whether to take a stand on the incident or not.
"This has happened on a university campus. University has its own code of conduct. It is up to the university to examine the violations taken place in the campus. However, if there is a private complaint then the university should look into this," Rao said.
While some of the Congress leaders Catch contacted said that they were not aware of the developments, other party workers remained unavailable for comment.