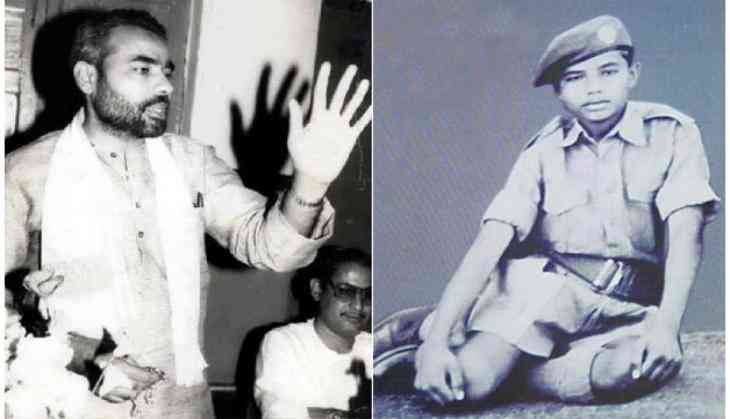 Prime Minister Narendra Modi turns 69 today and the celebrations have already begun across the nation. On Modi's big day, it's a time to remind his unheard and unknown facts that made him the leader of the country.
It's PM Modi led government which has defeated the country's oldest party i.e. Congress. Since the last two general elections, the Bharatiya Janata Party has won the majority of seats and a clean sweep for Modi led saffron party.
On the other hand, Congress failed to stop the Modi wave that swept it out of power in 2014.
Many few people know that there was a time when PM Modi worked for the oldest party Congress.
Yes, you read right! According to the Modi's biographers, Narendra Modi worked as a child volunteer for Congress events held in Vadnagar, Gujarat.
It has been documented by his biographers that a six-year-old, Modi was a Balyaswayamsevak of the Rashtriya Swayamsevak Sangh and also worked for Congress events which were organized by the Congress leader Rasikbhai Dave.
In the book, the Man of the Moment: Narendra Modi, the biographers MV Kamath and Kalindi Randeri said in the book that in 1956, when Rasikbhai Dave was organizing some Congress event in Vadnagar, Narendra Modi helped him as a volunteer.
After knowing the interest of little Narendra Modi, Rasikbhai Dave wanted to know what such child could do in a political event. In reply, Modi told that he would sell or distribute badges for the Congress.
Finally, Modi helped Rasikhbhai and distributed badges among the participants. Even his idea also helped the party in raising funds.
According to the books, Modi continued to work in Congress events in Vadnagar for some time.
As per the reports of India Today, this information was also confirmed by a Congress leader from Vadnagar Dwarkadas Joshi, a noted follower of Mahatma Gandhi and Vinobha Bhave.
He confirmed that Modi actually sold Congress badges so that funds could be raised to organize the event.
Also Read: Narendra Modi's 69th Birthday: Planning to celebrate PM Modi's birthday? Here's how to wish via WhatsApp