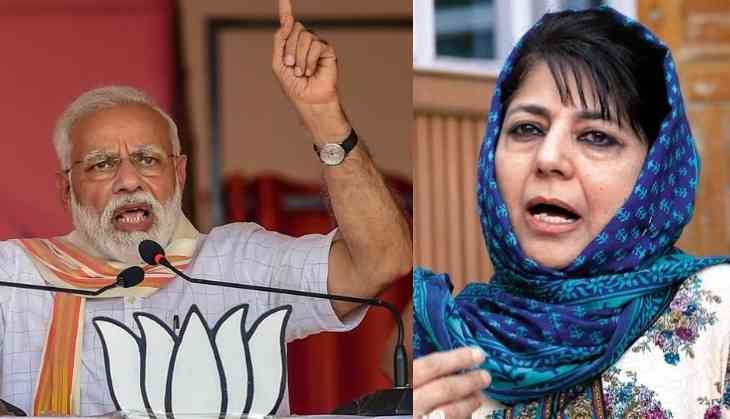 PM Modi and Mehbooba Mufti
As the election season is on, the political discourse is plunging to a new level after Mehbooba Mufti batted for Pakistan and took a jibe at Prime Minister Narendra Modi while she said that 'Pakistan's nuclear bombs are not kept for Eid.'
Mufti, while attacking PM Modi said that he has "stopped low" in his speeches and the political discourse has plunged to a lower level. Mufti was responding to PM Modi's speech in a rally and targeted the BJP in the election season.
"What do we have then? Have we kept our nuclear bomb for Diwali, Earlier, serial blasts took place at places like Ajmer and Hyderabad and on the Samjhauta Express train," said PM Narendra Modi while rallying in Rajasthan.
Mehbooba Mufti, PDP on PM Modi's remark, 'Every other day they (Pakistan) used to say "We've nuclear button, we've nuclear button".....What do we have then? Have we kept it for Diwali?': Jo Pakistan ke pass honge, vo bhi Eid ke liye nahi rakhe honge. Yeh hisaab baraabar hota hai. pic.twitter.com/disWzMy8f3

— ANI (@ANI) April 22, 2019
Mehbooba Mufti reacted to the statement of PM Modi today and addressed the media in Kulgam by saying that, "If India hasn't kept nuclear bomb for Diwali, it's obvious Pakistan's not kept theirs for Eid either. Don't know why PM Modi must stoop so low & reduce political discourse to this."
Adding to her statement, Mufti criticised PM Modi and said, "What Pakistan [nuclear bombs] possesses would not be saved for Eid either. We are evenly placed in this matter."
Elections are currently taking place and the third phase is scheduled for April 23. Results will be declared on May 23. BJP is eying big from the Jammu and Kashmir, where it was in power until last year.
Also read: 'Congress president depends on falsehood': Nirmala Sitharaman's reply to Rahul Gandhi's 'Chowkidar'