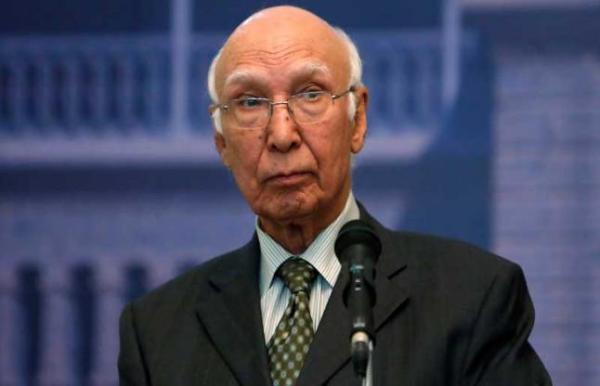 In an interview with the India Today news channel, Pakistan's chief of foreign policy Sartaj Aziz said that Masood Azhar, leader of the Jaish-e-Mohammed, had been taken into protective custody after the Pathankot air base attack, and that one of the mobile phone numbers called by the attackers had been traced to JeM headquarters, reports the Hindustan Times.
Aziz rejected India's accusation that Pakistan had taken no action on the intelligence provided by New Delhi on the JeM's involvement in the 2 January terrorist attack.
On 19 February, Pakistan had filed an FIR on the Pathankot attack, but without naming anyone in particular. However, the FIR included the five mobile phone numbers the terrorists had called after they entered India.
Aziz said that one of those mobile numbers was active and had been traced to the JeM HQ in Bahawalpur.
"The FIR is only a first stage report and subsequent FIRs will definitely carry names," he said. "Even the identity of those attackers who died in Pathankot has not been established. So this is the first step of the investigation and as additional evidence is provided, once the investigation team visits India, then obviously names will happen and whosoever is responsible will be acted against...," he said.
Aziz also said that Pakistani-American Lashkar-e-Taiba operative David Coleman Headley could not be taken seriously. Headley deposed to a Mumbai court in the 26/11 attack case. "Pakistan is not worried by Headley's deposition. He has no credibility. He is a double agent and a drug peddler," Aziz said.
He also said there was no evidence to suggest that Lashkar founder Hafiz Saeed was involved in the Mumbai attacks.