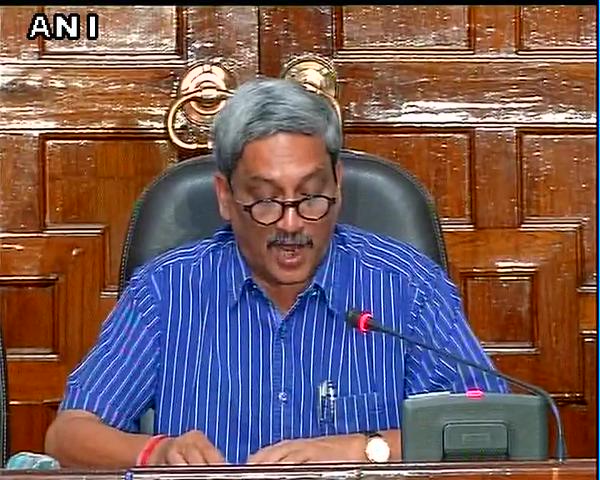 Defence Minister Manohar Parrikar announced the implementation of the long-awaited One Rank One Pension or OROP this afternoon. Here's the full text of his address.
1. The issue of OROP has been pending for nearly four decades. It is a matter of deep anguish that the various governments remained ambivalent on the issue of OROP. In February 2014, the then government stated that OROP would be implemented in 2014-15, but did not specify what OROP would be, how it would be implemented or how much it would cost.
An estimated Rs 500 Crore provided for OROP in the budget presented in February 2014 by the then government was not based on any through analysis. It is pertinent to mention that the then minister of state for defence in 2009 had, in reply to a question, informed Parliament that there are administrative, technical, financial difficulties in implementing OROP.
It is for these reasons that the present government took some time to fulfill its promise.
2. Prime Minister Modi has on various occasions reiterated the government's commitment to implement OROP for ex-service under military pension. As stated above the previous government had estimated that OROP would be implemented with a budget provision of a mere Rs 500 crore. The reality, however, is that to implement OROP, the estimated cost to the exchequer would be Rs Rs 8000cr- Rs 10,000cr at present and will increase further in future.
3. The government held extensive consultations with experts and ex-servicemen. The main argument for OROP is that the defence personnel retire early and thus are not able to get the benefits of serving till normal retirement age. Despite the huge fiscal burden, given its commitment to the welfare of ex-servicemen, the government has taken the decision to implement OROP.
4. In simple terms, OROP implies that uniform pension be paid to the armed forces personnel retiring in the same rank with the same length of service, regardless of their date of retirement. Future enhancements in the rates of pension would be automatically passed on to past pensioners. This implies the gap bridging the gap between the rate of pension of current and past pensioners at periodic intervals.
Under this definition, it has been decided that the gap between rate of pension of current pensioners and past pensioners will be bridged very five years.
5. Under the OROP scheme:
the benefit will be given with effect from 1st July 2014. The present government assumed office on 26th May 2014. And therefore, it has been decided to make the scheme effective from a date immediately after.
Arrears will be paid in four half-yearly instalments. All widows, including war widows, will be arrears in one instalment.
To begin with OROP would be fixed on the basis of calender year 2013.

Pesion will be re-fixed for all pensioners retiring in the same rank and with the same length of service as the average of minimum and maximum pension in 2013.

Those drawing pensions above the average will be protected.

Personnel who voluntarily retire will not be covered under OROP scheme.

In future the pension will be re-fixed every 5 years.

It is estimated that the expenditure on arrears alone would be ten to twelve thousand crores of rupees. Apart from the fact that the previous government had provided for only Rs 500 crore in the Budget, it is noteworthy that the Koshiyari Committee had accepted the estimate of Rs 235 crore as additional financial burden to implement OROP. The present government has accepted OROP in true spirit without being constrained by these inaccurate estimates.

OROP is a complex issue. A thorough examination of interests of retirees of different periods and different ranks is needed. The inter-service issue of the three-Forces also require consideration. This is not an administrative matter alone. Therefore, it has also been decided that a one member Judicial Committee would be constituted which will give its report in six months.

Prime Minister Narendra Modi has fulfilled his commitment and approved OROP for Armed Forces personnel. Ministry of Defence will soon issue detailed Government Order.